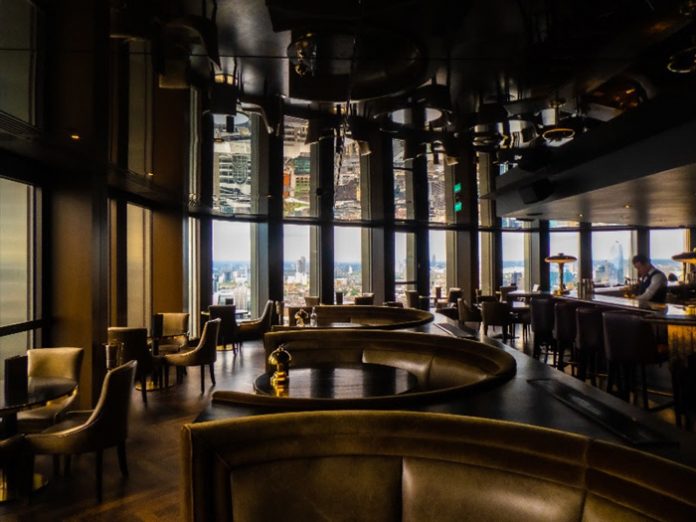 In-house sound stays in house as Audiologic supplies Excite AV with QSC solution at London hotspot.
Tower 42 in the City of London is home to Jason Atherton's modern, Michelin star restaurant, City Social. Situated on the 24th floor, the venue commands spectacular views across the Metropolis and serves the best of British ingredients in an elegant art-deco environment. As well as serving an extensive range of cocktails, fine wines and beers, Social 24, the venue's bar, also hosts popular and busy DJ nights.
The City Social management team faced a number of issues relating to its audio provision and consulted with integrators Excite AV and the Application Team at Audiologic to help determine a practical way to overcome some tricky problems. The basic brief was to deliver a new background music system that could be used as the main system for DJ events.
The existing ceiling speaker system suffered from uneven sound and coverage, with 100V line speakers dotted only near the windows and above the bar. On busy nights as customers gathered on the dance floor, any lift in volume overpowered conversations in the peripheral areas, yet lacked sufficient dynamic range in the central dance floor area. To overcome this problem, the venue had used larger suspended speakers on DJ nights but the unique design of the building transmitted vibration to the floor below and had led to the installation of an inconvenient noise-limiter to avoid complaints from other users of the building.
Having taken account of the setting and its challenges, Audiologic and Excite AV recommended a QSC solution and arranged a demonstration of QSC speakers at the manufacturer's London demo room. Suitably impressed by what they heard, the support they received and the speed with which Audiologic was able to provide a quote, City Social went ahead with the design.
Excite AV installed 6 x QSC AD-S6T 6.5inch surface-mounted speakers, 8 x QSC AC-C6T high-quality 6.5-inch ceiling mount loudspeakers and 2 x QSC AD-81Tw 8-inch ceiling-mounted subwoofers. The system is powered by 2 x QSC CXD4.2 processing amplifiers. A Cloud LE1W Remote Input Plate to provide a connection for an audio source completed the picture.
Audiologic Application Support Engineer, Yavor 'Max' Yanakiev commented:
"To address the issues at hand, we suggested the use of surface mounted low impedance distributed speakers positioned above the bar, directed inwards towards the dance floor as well as the busy parts of the venue where the energy was required. The AD-S6T speakers powered by the CXD amplifier have provided the necessary levels, dynamic range, frequency response and headroom in these areas. Adding relatively small speakers to the existing distributed system has allowed a significant reduction in structure-transferred noise, whilst still achieving great clarity and good SPL throughout the venue, without triggering the noise limiter as had happened before."
Jim Thomas of Excite AV reflected on another successful installation:
"The principal challenge we faced was to overcome the inaccessibility of the venue's ceiling which comprised large decorated sound-absorption panels. This made cabling the in-ceiling speakers on the side of the bar more difficult. Fortunately, the QSC CXD4.2 amplifiers' ability to go down to 2.4 ohms proved to be very helpful in this instance, as they the allowed us to run the 14 loudspeakers and 2 subs off 2 amplifiers."
The installation at City Social demonstrates the value of close cooperation between project partners and emphasises the value of Audiologic's service-led approach, where its team engages with integrators and end-users in the early stages of a project, ensuring that best-fit solutions are delivered quickly and efficiently. The reaction of City Social's General Manager, Tim Smith, to the completed install certainly suggests that this is the case:
"We went with Audiologic and Excite AV because of the speed at which they were able to provide a definitive quote and the helpful support they offered from the start. The staff are very happy with the new system, describing it as clear and more powerful without being overpowering. A major problem with the previous system was sound travelling through the floor and ceiling to our corporate neighbours. The new install does not have these issues, giving us peace of mind. There is a clear difference between the sound in the bar with the new system as compared to the restaurant with the previous system. We find our visitors drawn to the area with the new system!"