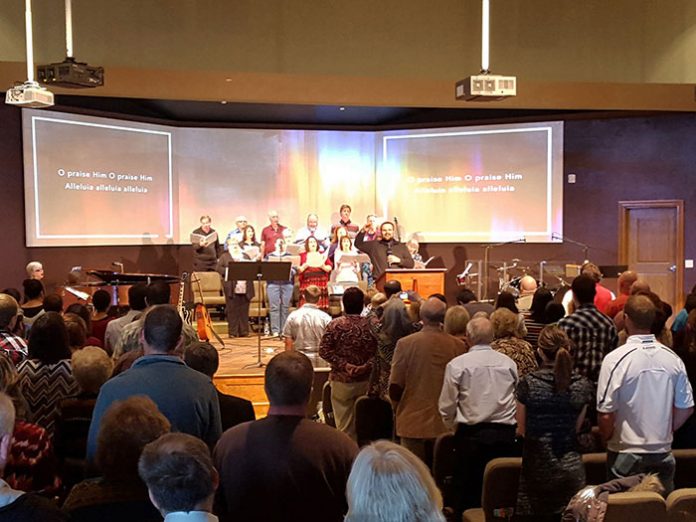 The First Southern Baptist Church, a robust congregation of 800 people in Pratt, Kansas, recently had a new church building constructed by Builders for Christ, a non-profit that brings volunteers to construct church buildings for needy congregations. But what no amount of good will can accomplish is the replacement of the RF spectrum that's being eroded as more of the UHF spectrum – the sweet spot for professional wireless audio systems – disappears as the FCC reallocates more of it for the growing cohort of mobile wireless devices.
Brent Handy, Audio, Video, Lighting and Electronics Designer and Sales Consultant at Advanced Sound & Communication in Kansas City, which provided much of the new church's AV systems, says he initially tried to work with the church's existing wireless microphone system, but found it was better suited to conference room applications and in any event wasn't designed to be used in the quantities that the church staff needed them. "The previous contractor did not perform an on-site scan. The quantity of simultaneous systems was not recommended by the manufacturer, and the frequencies chosen weren't recommended for Pratt, Kansas, by the FCC," Brent added, noting how the area's agricultural enterprises utilise much of the UHF spectrum for field communications and wireless internet. "After doing research and scanning for a week, we could not find enough UHF frequencies to work reliably."
That was the situation when an Audio-Technica rep visited Handy's office and suggested the A-T System 10 PRO Rack-Mount digital wireless system, which provides the same interference-free operation in the 2.4 GHz range – well outside TV bands – as the original System 10 wireless system, with expanded features and versatility. The System 10 PRO features 24-bit operation, easy setup, clear, natural sound quality, and three levels of diversity assurance: frequency, time, and space.
Brent eventually brought the System 10 PRO to Pratt and installed six channels at the church – four handhelds and two body packs, including two cardioid earset microphones – with remarkable results. "It worked," he said. "In fact, it worked so well that I didn't have to break the receivers and the antennas out of the chassis and mount them closer to the stage; they're actually in a rack underneath the counter by the front-of-house mixer. You can take those mics outside the building and they still work. And just in time, really."
In fact, according to Brent, the A-T System 10 PRO is now the only 2.4 GHz wireless system that he'll ever sell in the future. "Because I know it works," he said.