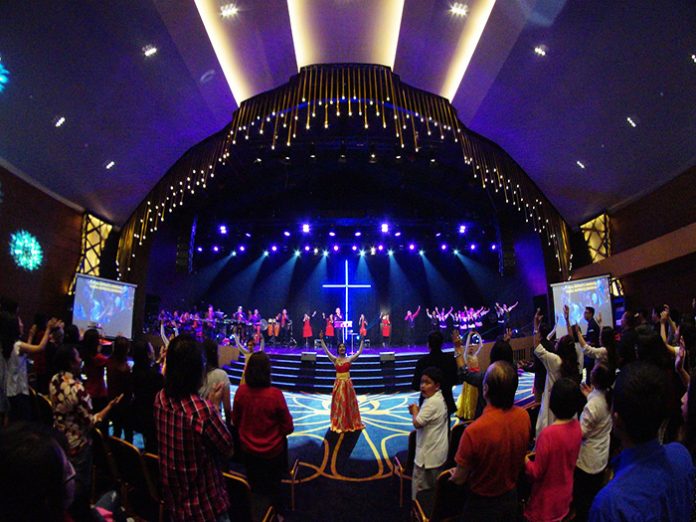 Broadcasting and live streaming services have opened up more ways for Star Church to grow and reach new worshippers.
However, with this opportunity has come the new challenge of lighting services in a way that not only appeals to people at the church but can also meet the more critical demands of the video camera. With this issue in mind, the dynamic Indonesian church turned to its longtime vendor ASIIS to create a video-friendly lighting package for its newly built campus, which is located in a shopping mall.
ASIIS met Star Church's expectations by creating a carefully planned lighting system that includes over 65 Chauvet Professional fixtures and is controlled by a ChamSys MagicQ MQ80 console.
"The HD video camera is much less forgiving than the human eye," said ASIIS' Andy Mulya Sutikno, who oversaw the project. "The lighting in Star Church's new building was designed to provide the colour temperatures and smooth, even fields of light that would look great on camera without detracting from the live experience inside the church."
Key to the new lighting design is the 16 Ovation F-165WW Fresnel fixtures that are flown on truss just beyond the stage apron. "The colour temperature and consistency of the light from these fixtures result in very natural skin tones on camera," said Andy. "They also make it easy for the church to go from covering the whole stage to focusing on specific individuals. Moreover, with the even light field, there are no distractive shadows."
In addition to the Ovation fixtures, the new lighting system features 12 Chauvet Professional COLORdash Par-Hex 12 units, as well as 12 Chauvet Professional Rogue R2 Beam, 8 Chauvet Professional Rogue R2 Spot and 6 Chauvet Professional Rogue R3 Wash fixtures, plus 8 Chauvet Professional Ovation C-805FC cyc lights and 2 Chauvet Professional LED Followspot 120ST fixtures. There are also 12 COLORband T3 USB fixtures from Chauvet DJ in the rig that works in conjunction with the Ovation cyc fixtures to provide backlighting. For atmospherics, the rig includes 2 Vesuvio RGB and 2 Amhaze Whisper foggers.
"We considered broadcast applications with every fixture we installed in this church," said Andy. "For example, the Rogue R3 Wash creates a very wide angle and natural colours, so it looks good on camera. It also can produce very appealing eye candy that looks great live or on video. Plus, it has very low floor noise. The Par-Hex 12 also gives us colours that complement skin tones."
The versatility of fixtures in the church's new lighting system affords it the opportunity to create a variety of looks for its live and video audience. Having multi-functional fixtures offers the added benefit of space savings.
"We can get more looks out of fewer fixtures, which is always a plus since space is always an issue," said Andy. "Since this church is located in a shopping mall, we have to be concerned about power draw. So, the efficiency of our system is important."
ASIIS selected the ChamSys MagicQ MQ80 for the church because it is powerful, yet intuitive enough for volunteers to master. The console also is "physically cute," concluded Andy.