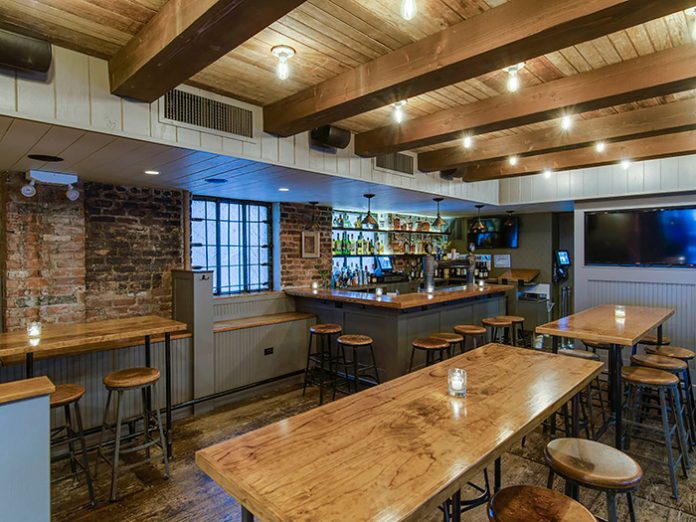 The Gray Mare is a new pub in the trendy East Village neighbourhood of Manhattan that caters to the vibe and tastes – both gustatory and spirituous – of that neighbourhood's young clientele. "It was formerly Demsey's, a neighbourhood tavern that, after 24 years, had run its course," explained Rich Trombitas, regional sales & product manager with A/V manufacturer's rep firm Cardone, Solomon & Associates (CS&A). "It's the same owner, and he did a great job of ripping out the old and building in the new. It's in a young part of the city, and it now hits all of the high points for that group." Trombitas drew on his own expertise and CS&A's representation of Ashly Audio and other manufacturers to assist NYC's local integration firm, Starview Satellite, with the Gray Mare's killer sound system.
"Starview Satellite's John Paturno and Hector Martinez needed a system that was cost-effective, green (in terms of energy-usage and heat profile), and very conservative of space… this being Manhattan, where every square foot counts," Trombitas said. "A pair of Ashly nX 4004 four-channel amplifiers was a big part of the solution. They run cool and efficiently, and we could pack eight channels of 400w amplification into just four rack spaces. Moreover, Ashly's nX-series amplifiers can handle different impedance on different channels, which was essential at the Gray Mare, where we have a mix of low-Z subwoofers and 70V loudspeakers."
The new pub is divided into two zones: the front bar area and the back dining area. In both zones, Innovox Micro-Sub 2×6 low-Z subwoofers provide low-end support in a compact package. The front zone reuses old loudspeakers from Demsey's to deliver stereo full-range content, and the back zone uses new SoundTube downward-firing 70V ceiling loudspeakers and surface-mount loudspeakers. The bathrooms contain additional SoundTube 70V loudspeakers, and, in all, seven amplifier channels cover the pub. One remains as a spare. A Symetrix Solus NX 8×8 provides front end processing.