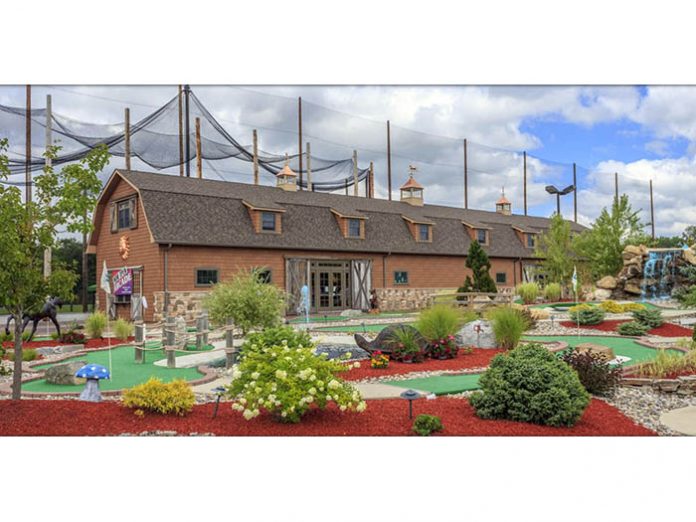 With go-karts, mini golf, bounce houses, an arcade, rock climbing, zip lines, and plenty of food and drink for patrons of all ages, Sonny's Place is the ultimate family fun destination. It's located in Somers, Connecticut, an easy drive from New York City, Boston, and all of the large and small New England cities between. Success feeds on success, and Sonny's Place recently completed its third expansion. Because the sound system from its second expansion had proven so reliable and headache-free, Sonny's Place again hired ALSS (Advanced Lighting & Sound Solutions) from Manchester, Connecticut for its latest expansion. And because the reliable Ashly Audio amplifiers that ALSS had installed in the second expansion were a big part of its success, ALSS owner Glen Aliczi again called on Ashly amplification, this time adding Ashly processing and Ashly's custom iPad interface as well.
"The new expansion adds approximately 18,000 square-feet to what is already a pretty big facility," Glen said. "It includes five additional birthday party rooms, an antique carousel and state-of-the-art laser tag. The owners wanted something a little more sophisticated that would allow staff members – who aren't necessarily tech savvy – to independently control source selection and volume in each of the zones. I've used Ashly's Pema combo multi-channel amp and Protea™ matrix processor, and I always appreciate how easy it is to navigate Ashly's GUI. We also recently used Ashly's iPad app for a church installation, and they loved it. So, Ashly processing and user interface were a natural choice for Sonny's Place."
ALSS installed an Ashly ne24.24M Protea matrix processor to handle all of the input signal processing, routing, logic, and loudspeaker EQ & delays. In addition to a music server and local inputs at each of the zones, it also accepts output from other areas at Sonny's place. Users simply grab the iPad, hit the room they'd like to adjust, and select from the input sources and change the volume. Users who have never been introduced to the system can easily navigate to make changes via the sensible interface by themselves.
Two Ashly nx754 four-channel multi-mode amplifiers deliver 75 W per channel across eight 70-volt zones, and one Ashly nx4002 dual-channel amplifier delivers 400 Watts per channel to loudspeakers in the laser tag waiting zone for added oomph. "The existing Ashly amplifiers from the second expansion have been working reliably for years," Glen said. "They sound great, too. So why mess with that? Ashly amps were the way to go with this expansion." The Ashly amplifiers power QSC AD-C6T 6.5-inch ceiling speakers and QSC AC-C4T 4.5-inch ceiling speakers.
About Ashly Audio
Ashly Audio Inc. is recognised as a world leader in the design and manufacturing of high-quality & high-performance signal processing equipment and power amplification for use in the commercial sound contracting and professional audio markets. The 42-year-old company is headquartered in Webster, New York U.S.A.
For more information please visit www.ashly.com.