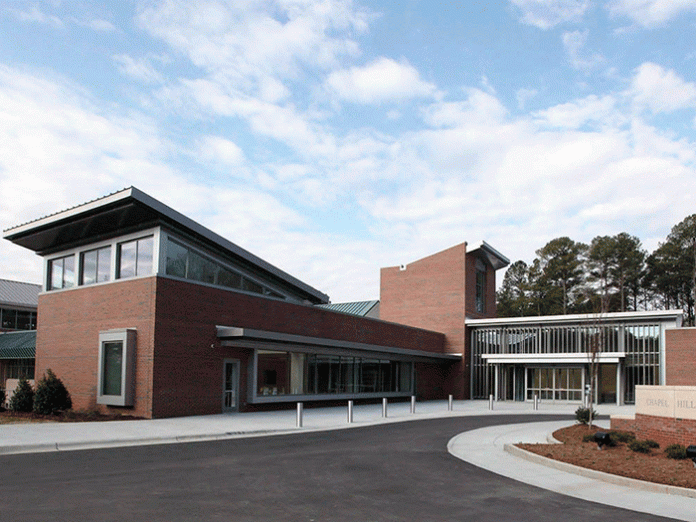 For over thirty years, the Chapel Hill Public Library (CHPL) in Chapel Hill, North Carolina has maintained the highest per-capita circulation of any North Carolina public library, which serves as an excellent indicator of the town's interest and involvement in the library. A 2013 expansion gave CHPL two adjacent meeting rooms, one larger and one smaller, capable of seating approximately 380 people. Booking rooms is free process, so they are used for town hall meetings, police and fire department trainings, and indeed, miscellaneous events led by Chapel Hill organisations and citizens. Recently, Avant Systems Integration (Raleigh, North Carolina) upgraded the sound and video systems in CHPL's meeting rooms using Ashly Audio processing and amplification.
President of Avant Systems Integration, Scott Carneval explained further: "The system that went in with the meeting rooms was budget-driven. The rooms are bright and fairly large, and it originally appeared to us that the existing audio and visual components were underpowered. We were subcontracted on the original install and developed a relationship with the library for maintaining the system. Feedback and inadequate volume kept recurring. When they realised there was no way to fix the original design, the library people called us in to improve the system with new components."
Avant replaced the handful of 6.5-inch in-ceiling loudspeakers with a much larger complement of 8-inch SoundTube loudspeakers. Perhaps more importantly, they replaced the single 75W amplifier that had been dribbling into them with a robust Ashly ne8250.70, which provides a whopping 250W from each of its eight channels. Inadequate volume would no longer be an issue. Among other things, a new Ashly ne24.24M Protea Matrix Processor gave Avant the ability to fully ring the system out with appropriate notches at all the frequencies that tended to feed back. To give CHPL a more engaging movie-night experience, Scott also specified the addition of SoundTube in-ceiling subwoofers, which are also powered by the Ashly ne8250.70. A Listen Technologies assisted listening system improves the accessibility of the meeting rooms.
Avant also provided the two rooms with eight new Shure microphones: four podium mics, two handheld wireless mics, and two wireless lavalieres. Importantly, the two rooms share all eight microphones, and a BitWise iPad app allows users to select any of the eight microphones for output in either room by controlling the output logic of the Ashly ne24.24M. Moreover, the audio and video outputs are similarly 'matrixed' to allow the smaller room to serve as overflow. Scott later stated that he and his team like to stick with Ashly gear because of its reliability, it's easy to use and very well supported. Ashly's comprehensive five-year warranty gives clients peace of mind, and Ashly's timely delivery and solid tech support makes all-round communication easier and less stressful.
On the video side of things, Avant gave the CHPL a 189-inch and 137-inch motorised Da-Lite screen in the larger room and the smaller room, respectively. An Hitachi CP-WX8255A 5500lumen projector serves each room, and an Atlona AT-UHD-PRO3-88M video matrix switcher gives users complete flexibility in assigning video inputs to different outputs. In each room, two more 70-inch flat-screen TVs complement the larger screens.
To conclude, Scott commented how the library staff was frustrated with the old system, but they're in love with the new system: "The volume and clarity are great, and the subwoofers really add to events that need low-end punch. Moreover, they're getting all that volume without a shred of feedback, even with eight open microphones in the room!"