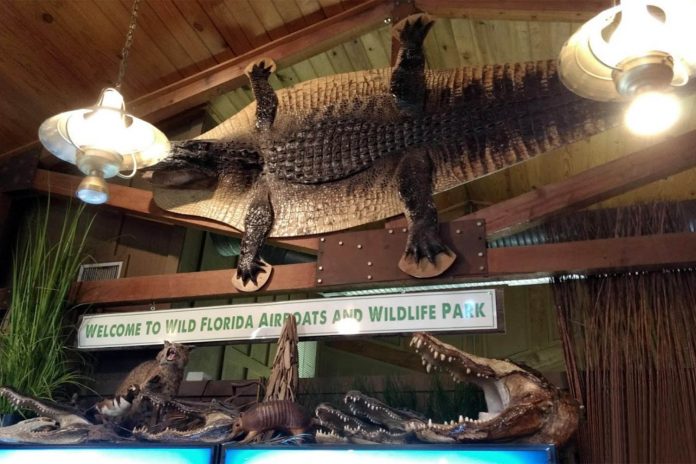 Wild Florida offers two big attractions, guided airboat rides into Florida's famed Everglades and an exotic animal park that houses lemurs, tropical birds, giant snakes, over fifty alligators and much more. The airboats take half-hour and full-hour tours during the day, at dusk and in the early evening with visitors typically purchasing their airboat tickets and touring the park while they wait for their ride. Local A/V integration firm Xtreme Installations, of Sanford, Florida recently improved Wild Florida's operations with the installation of an Ashly Audio DSP user-control and amplification system that gives animal show presenters sound reinforcement, allowing the gift shop to page visitors when their boat ride is ready.
"The entire park-wide system is integrated so that pages can be heard anywhere," explained Travis Bilskie, president of Xtreme Installations. "However, we had to build in a pretty sophisticated hierarchy of priority to get the ducking right in different zones in different circumstances. For example, they have an event room that can be rented out for field trips, weddings and the like. When that space isn't being used for any special purpose, pages need to go through there. But when it's rented, pages shouldn't interrupt. Similarly, when an exotic animal show is happening, pages shouldn't interrupt and nor should background music peek through if the presenter stops talking for a minute (say, to feed an alligator!). The restaurant needs its own paging facility to call orders when they're ready. All in all, it's pretty involved."
Travis contacted Ashly Audio's support team to hammer out a cost-effective solution. "Ashly's support is outstanding," he said. "I can talk to a live human right away who really knows the gear inside and out. Jim Schwenzer, based in Ashly's Tech Support factor, helped us design the system at Wild Florida, and any time we have an issue during an installation we can count on the Ashly support staff to give us real, professional-level help. If we're calling, it's because we've already tried the ten obvious troubleshooting solutions.
Inputs to the system include Shure gooseneck mics for paging and Shure BLX14R wireless mics for exotic animal shows along with numerous input plates for external and custom music sources. Also used, is a primary Ashly ne24.24M Protea Digital Matrix Processor with modular I/O configured to 12×8 handles signal processing, routing logic to attain higher-level priority ducking. Its outputs feed two Ashly nXp1504 four-channel 150W Multi-Mode Amplifiers with built-in Protea DSP and one Ashly nXp4002 two-channel 400W Multi-Mode Amplifier with integrated DSP. The amplifier channels and their associated processing are strategically deployed so that presets give every zone the right paging and ducking behaviour to suit every possible circumstance. Twenty-one JBL Control 25 loudspeakers and two JBL Control 28 loudspeakers complete the system.
"We have a lot of Ashly amplifiers and DSPs in the field," Travis said. "And the frequency with which we have to go repair them is almost zero which is great because we do installations across the entire state of Florida and southern Georgia. We're very happy not to be making four-hour drive service calls." Wild Florida staff control the system presets from two Ashly WR-1.5 remote controls whilst simple rotary dials pick the appropriate preset. Staff can also change the overall system volume from two Ashly WR-1 volume knobs at the equipment rack.