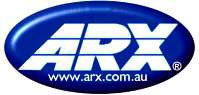 ARX Systems has appointed Signal Sound & Light Distribution as its exclusive distributor for Austria.
ARX MD Colin Park, said Signal Sound & Light Distribution, is a well known and respected Austrian distributor. "At ARX, we're looking forward to working with Matthias Reinthaler and his team. They're very enthusiastic about the possibilities for the growing ARX digital and analogue product range amongst their extensive dealer base throughout Austria," he said.
Matthias Reinthaler, the Founder of Signal, agreed: "Customer service is very important for us; our product specialists support the client at all times, especially after buying, so we have not only a selling position, but more of a cooperation with our clients and partners. We are proud to extend our product range with ARX products, they fit perfectly into our portfolio.
"Signal has been active in the pro audio market for over eight years and our experienced team has collectively many years industry experience. We have strong partnerships with all the major Austrian rental companies in both audio and lighting sectors," added Matthias.
ARX joins a distribution portfolio that includes well know brands such as ElectroVoice, Dynacord, Robe, Cordial and many more.