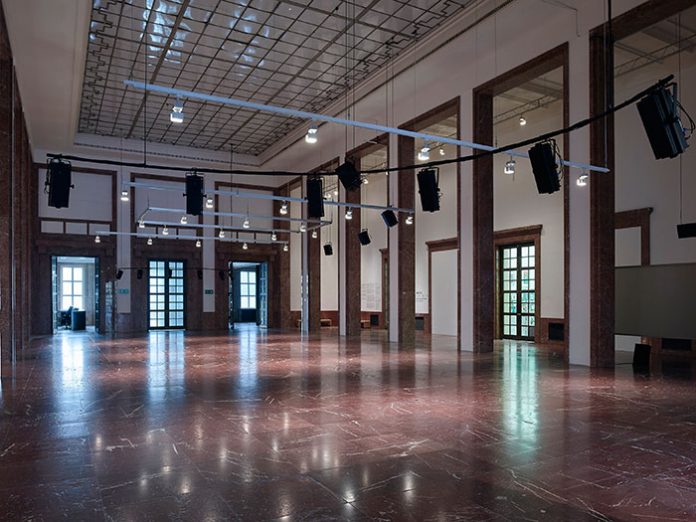 Albanian Artist Anri Sala recently selected a Meyer Sound audio system for his multimedia installation The Present Moment, commissioned at Munich's Haus der Kunst. With sound design by Olivier Goinard, the installation contrasted the large, cold architectural space of Haus der Kunst with the intimacy of chamber music by Arnold Schoenberg.
"In order to accurately convey a sense of space in the conception of this work, I needed to rely on very sensitive, accurate, and reliable tools, and working with Meyer Sound has been an indispensable pleasure," said Anri. "In recent years, sound has played an essential role in my work, not only in its production, but its conception as well. The remarkable and unparalleled quality of Meyer Sound allows for an idea to spread through a space with gentleness and boldness."
For Olivier, Meyer Sound helped to translate Sala's vision into reality. "Keeping in mind both the complexity of the soundscape and the challenging reverb of the hall, loudspeaker directivity was the main solution that would allow for a dialogue between the space and the sound elements," he reported. "The Meyer Sound loudspeakers helped to define precise listening zones, thus reducing the overall sound volume in the hall."
Located in Haus der Kunst's vast Middle Hall, The Present Moment employs 12 UMP-2P and seven UPA-1P loudspeakers hung from the ceiling, delivering 19 channels of sound that are timed and synchronised by a D-Mitri digital audio platform.
"The acoustics in the Middle Hall are the most difficult one could imagine," noted Patrizia Dander, Curator of The Present Moment. "The hall is 800 sq metres, with 12-metre-high ceilings, marble floor and door frames, and a glass ceiling – all reflective surfaces. Yet the sound quality is excellent, thanks to both the Meyer Sound system and the skill of Sala and Olivier in handling the room's acoustics."
Sala has previously used Meyer Sound systems in a number of installations, including his presentation in the French Pavilion at the 2013 Venice Biennale. He will use Meyer Sound again for a major exhibition of his work at the New Museum in New York City, opening February 2016.