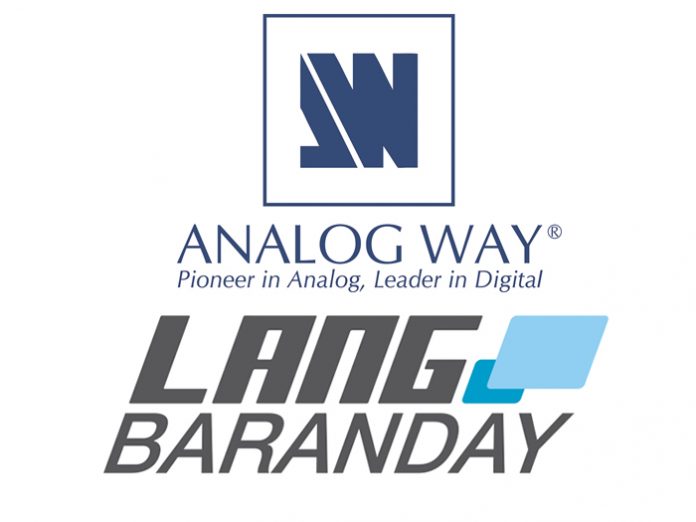 Analog Way and LANG BARANDAY AG announce their new distribution agreement for Switzerland.
Through this new distribution agreement, LANG BARANDAY AG strengthens its position as a valuable partner for system integrators and retailers by offering the complete range of Analog Way's innovative solutions.
France-based Analog Way is well known for its cutting-edge image processing solutions comprising, among others, the VIO 4K multiformat converter and the Picturall range of media servers. The powerful 4K multi-output seamless switchers and videowall processors of the LiveCore series remain the flagship of Analog Way offerings and are typically used for live high-end presentations and to create massive video canvases involving great numbers of video outputs.
"We value the strategic cooperation and the continuous exchange with Analog Way regarding the latest developments," said Nicola Votta, CEO of the LANG BARANDAY AG. "Analog Way's solutions perfectly complement the existing LANG BARANDAY portfolio across the entire distribution spectrum, offering our customers the best possible service with future-oriented AV products."
"We look forward to working with LANG BARANDAY in Switzerland," added Adrien Corso, CEO of Analog Way. "We trust that this new partnership will strengthen our development in rental and staging as well as in our growing fixed installation market.»
Analog Way users can rely on LANG BARANDAY's comprehensive services, which include: rental, pre- and after-sales support, project business, extended repair processes as well as training.
For years, the LANG ACADEMY has been providing high-quality training on Analog Way's products, which are in high demand by European AV technicians. In September 2018, LANG BARANDAY launched the Swiss equivalent of the LANG ACADEMY and will offer, from 2019, Analog Way training sessions in Zurich for Swiss customers.