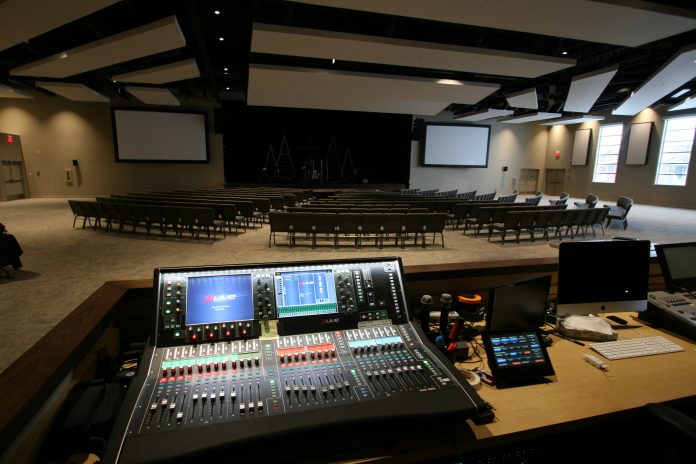 Allen & Heath's dLive S Class and ME mixing systems have been installed in Southview Alliance Church, in Calgary, Alberta, Canada, as part of a major audio refit.
The new, combined FOH and monitor system was designed, supplied and installed by Sapphire Sound, which specified a dLive S5000 Surface with a DM48 MixRack for FOH, and a ME personal monitoring system for the musicians on stage, starting with the drummer in the initial roll out.
"dLive has many advantages," explains Ben Burrell at Sapphire Sound. "The high channel count and number of output busses was a major factor for this project.  On top of that, the seamless integration with the ME-1 system, plus the dLive OneMix and MixPad apps for remote control, made the system particularly attractive.  Additionally, the ease of use for volunteers was a big selling feature. Finally, the number of network expansion card slots was also a huge bonus, ensuring that whichever direction technology goes, Southview will be able to stay connected."
The church has a busy schedule, involving several services throughout the week, ranging from the traditional to the contemporary, including band performances. The system runs at 96kHz, feeding directly into the amplifiers via AES so that the signal is digital from the preamp stage all the way to the speaker outputs.
"We really enjoy using the dLive S Class system. Its intuitive nature has made it especially easy for me to train my volunteers who only operate once a month. With very limited time on the console they are able to reach all the controls they need to put together a very good mix," explains technical arts director, Dan Delamont.