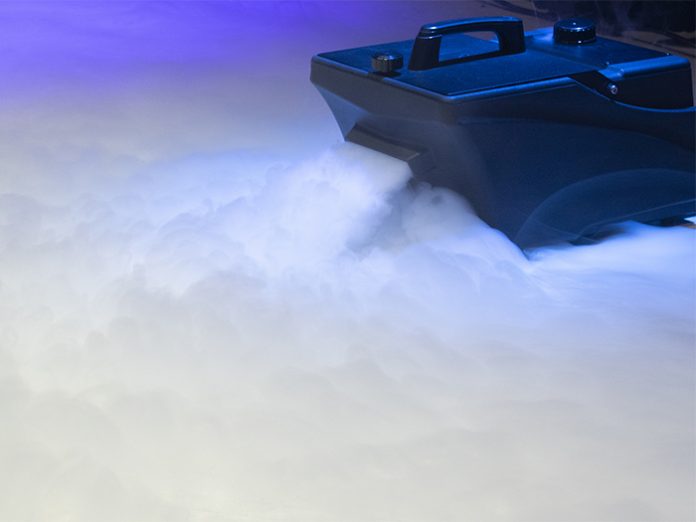 The latest addition to ADJ's Entour range of atmospheric effect generators, the new Entour Chill, is a compact yet powerful low-fogger. Using a combination of standard water-based fog juice and regular ice cubes, it can be used to create a dramatic low-lying fog effect without the hassle or expense of procuring dry ice.
Building on the success of ADJ's popular Mister Kool Series, the Entour Chill features enhanced technology that allows for increased output and a robust design that makes it suitable for a wide variety of applications. A newly-developed 800W heater system allows for continuous output for up to an hour, while sophisticated new electronic temperature control lets the machine heat up in just 3 minutes and stay at optimum temperature ready for immediate firing of the effect when it is required.
Setting up the unit is as simple as filling the 1-liter fluid tank with Kool Fog juice, loading the front ice hopper with 2.5kg of regular cubed ice, locking the lid in place with a thumb-tightening knob and connecting the power supply. After three minutes the heater will be up to temperature and the effect will be ready to fire on cue. When triggered, the machine will generate a blanket of low-lying fog that is similar to the effect created using dry ice, but without the associated costs and logistical challenges.
The unit features an internal tank design, however a slot in the back of the machine's case makes it easy to monitor the amount of fluid remaining. This is made even more convenient by an LED illumination system which lights the tank red when the machine is heating, green when it is ready to use, and flashes red when the tank is low. For optimal output, use of the ADJ Kool Fog juice is recommended. This particularly dense water-based fluid has been specifically developed for creating low-lying fog effects.
A handy drainage valve is provided on the rear of the unit, which can be connected to the supplied tube and waste water bag. It means that as the ice melts in the machine the water drains out and is collected in the bag, which can then be easily disconnected and carried to a sink or drain for disposal. This system makes the machine easy to empty and prevents messy spilages or water leaks during operation.
A versatile effect generator, the Entour Chill offers a variety of different control options. It features a 16-character LCD display screen that presents a menu-driven interface for configuration of the unit's control and other operating parameters. The menu can be used to trigger continuous operation as well as to setup timed output or address the unit for DMX control. 3-pin DMX input and output sockets are located on the rear of the unit, which can be used to connect it to an existing DMX system to allow the effect to be triggered by a lighting board or software control system. Alternatively, the unit is also supplied with an ADJ FFFTR MKII wired remote control. This allows manual push-button triggering of the effect, selection of continuous output as well as a timer function with Duration and Interval potentiometers.
Featuring a rugged fire-resistant plastic case, the unit has been designed and built for professional event production and theatre use. With measurements of 16.5" by 11.69" by 10.75" / 420mm by 297mm by 273mm, it is conveniently compact, while a weight of 17.25 lbs. / 7.8 kg. makes it easy to carry using the integrated handle. Power is connected to the unit via a locking socket on the rear panel, which is protected by an integrated NFB breaker and fed through an on/off power switch.
"As we seek to continue ADJ's success in the low-lying fog market, the new Entour Chill represents more than just a cosmetic overhaul of the extremely popular Mr Kool Series," explained ADJ USA's National Sales Manager, Alfred Gonzales. "It features improved heating technology to allow continuous output as well as a robust molded plastic shell that is ready for the rigors of the road. Offering a truly impressive output, it is a worthy sibling of ADJ's innovative Entour Ice dry ice low fogger. It is ideal for those who want to create this popular effect but without the cost and inconvenience of purchasing dry ice. And, at its price point, we believe that the Entour Chill is easily the best low-lying fog machine on the market."
Offering extreme ease of use and simple portability, the Entour Chill is ideal for a wide variety of applications. Whether used to set the scene on stage for a community theatre production, to produce the classic 'dancing on clouds' effect for a wedding first dance, or to create a spooky atmosphere for a Halloween party, this powerful effect generator will deliver low-lying fog on cue wherever it is needed.