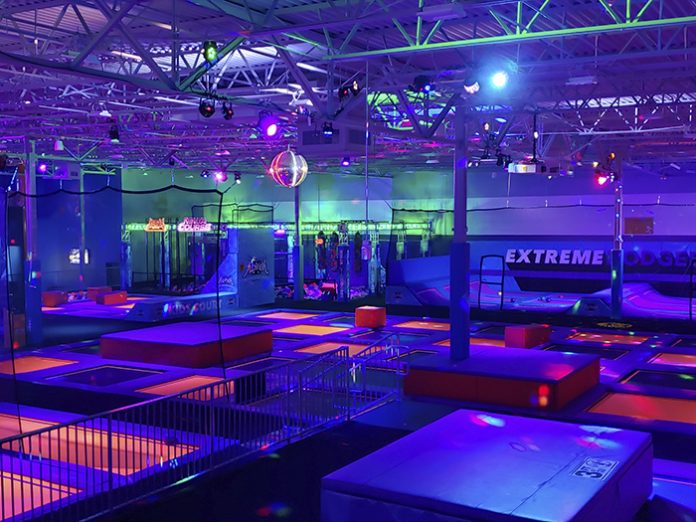 It's hard to miss the trampoline park craze that has been sweeping the world over the past few years. Offering a unique experience that combines physical exercise, socialising and lots of fun, they have become immensely popular, especially with children and teenagers. At the forefront of the US market, and with global expansion already underway, Altitude Trampoline Parks are ahead of the curve when it comes to jump park innovation. At the beginning of the year it launched its first 'super park', a huge location filled with trampolines and other features illuminated by almost 200 ADJ lighting fixtures.
Since the company launched in 2012, Altitude Trampoline Parks has experienced incredible growth. Building on the success of its flagship venue in Forth Worth, TX, the brand now has 67 locations open in the continental USA as well as an additional 10 overseas parks. Operating on a franchise system, the company is opening new locations on an almost weekly basis, many of which are in the new 'super park' format. These huge parks not only pack in plenty of trampolines for guests to enjoy, but a variety of other features including a 'wipeout' beam, extreme dodgeball court, 'ninja warrior' course, stunt bag, trampoline basketball court, foam pit and a dedicated 'kids court' for smaller jumpers.
As with most jump parks, lighting plays a very important part in creating the atmosphere inside all Altitude venues, and especially the 'super park' locations. ADJ dealer and equipment installer Studio Light and Sound, owned and managed by Gregg Sanford, has been responsible for supplying and installing the lighting rigs in many of Altitude's existing parks and at the end of last year was awarded the contract to exclusively supply all future locations.
Having spent eleven years serving as a police officer, Gregg decided to switch careers and pursue his passion for lighting only a few years ago. Since then his company, which specializes in installing sound and lighting equipment in live music venues, nightclubs, skating rinks and family fun centers as well as jump parks, has enjoyed exponential growth. Gregg and his team are now installing hundreds of fixtures every week and rely on ADJ for all of their lighting and atmospheric needs.
"I started out my lighting journey with ADJ," Gregg explained, "and I now wouldn't dream of using another supplier. When I was a teenager I made my mom and dad's basement into a nightclub and all the kids from school would come over to hang out down there. I bought a 300W halogen ADJ Vertigo lighting effect and ever since then I've stuck with ADJ. Why would I go anywhere else, when I'm happy with what I've got? Alfred (Gonzales, ADJ's National Sales Manager) and his team really look after me, I know if I ever need anything all I need to do is call. I also know the product range inside out, which is really important. I wouldn't have that same relationship with the company or knowledge of the product if I carried lots of different brands. Put it this way: I won't go anywhere else, because I get taken care of by ADJ like family!"
The first of Altitude's 'super park' locations, which is in Gastonia, NC, just outside of Charlotte, is a massive 44,000 sq. ft. facility. To illuminate its features, as well as provide effect lighting for its weekend evening DJ-led sessions, Gregg and his team supplied and installed a total of 182 ADJ lighting, atmospheric and control products. Together these completely transform the vast industrial building into a bright and energetic space filled with beams, GOBO projections and vibrant colors.
The workhorse of the lighting rig is ADJ's Mega Hex Par, which packs 5 x 6-Watt RGBAW+UV LEDs into a compact and versatile wash fixture. At Altitude Gastonia Gregg and his team have deployed a vast number of the units to cover a variety of different duties. These include washing the white-painted ceiling with swathes of richly-saturated colour, as well as warming the truss structure which supports the Ninja Warrior course and illuminating the entrance registration area.
"I love the Mega Hex Pars and we sell a ton of them," enthused Gregg. "They are incredibly good value, really the best price point of a fixture of that class, and also offer really good coverage. The beam is a nice even wash with no hot spots and the colour mixing is fantastic, the UV element really makes the colours pop. They are also very versatile fixtures, which means we can use them all over the jump parks. A great example is the entrance registration area, we use them set to colour macro 32 which is a combination of the UV, blue and white LED elements. This allows the staff to see what they're doing when they are counting money and typing, but it also means their shirts glow in the UV and the area feels vibrant and not clinical."
UV plays a big part in creating the atmosphere throughout the whole building as many of the trampolines and other pieces of equipment are decorated in fluorescent paint. To cause this to really pop, as well as to make guests' clothing glow, the Studio Light and Sound team have filled the space with no less than 32 of ADJ's ECO UV Bar Plus IR blacklight bar fixtures. Each 1m (39.5") bar packs in 18 x 3-Watt UV LEDs, providing a beam angle of 120-degrees for coverage of a large area. In addition, 10 of ADJ's UV COB Cannon fixtures have also been installed where a particular large throw was required. With a tighter beam angle of 33-degrees and an extremely powerful 100W COB UV LED engine, these potent fixtures ensure that every corner of the huge building is bathed with UV light.
As well as the UV, the trampolines are also washed with colour by a number of ADJ COB Cannon Wash fixtures. These powerful units feature an extremely potent 150-Watt RGBA COB LED and generate an even wash with a wide 80-degree beam angle. Linked master/slave and set on a slow colour scroll these fixtures make the trampolines and other features in the park really stand out.
When visitors first arrive at the park they are greeted by the 'Altitude' logo, projected on the floor at the entrance by an ADJ Ikon IR GOBO projector. This powerful fixture makes use of a brilliantly bright 80W white LED engine and a crisp optical system to create striking static or rotating GOBO projections. In addition, Gregg has also fitted an ADJ Focus Spot Two moving head fixture with a custom 'Altitude' GOBO and has used ADJ's Airstream DMX Bridge to program its movement around the main park. "One minute the GOBO is on one trampoline, then next minute another, then on the floor, then on the ceiling," explained Gregg. "Kids love chasing it around! Some of the throws are 200' and the projection is still bright and crisp, which really shows what that fixture is capable of. I love that light!"
An additional eight Focus Spot Twos are spread across the ceiling of the main park and linked Master/Slave to provide mid-air beam effects, while four ADJ Pocket Pros are mounted underneath a mezzanine ceiling. These extremely compact moving head spot fixtures, powered by a bright 25-Watt LED source, are ideal for installation in spaces with limited ceiling clearance.
The moving heads are augmented by a variety of effect lights including half a dozen ADJ Quad Phase HPs, the same number of XS600s, four Mini Dekkers, a pair of Revo 4s and fiveStinger Stars. "If I had to pick a number one favorite light," Gregg told us, "it would be the Stinger Star. It has three effects in one, which is great, but I particularly like the party dome moonflower. It must have very efficient LEDs, as the beams are super bright, and the 180-degree coverage makes it a great 'filler' light for these jump parks. I also think it's perfect for small clubs, it's just a very effective and versatile effect fixture – and I'm in love with it!"
The centerpiece of all of Gregg's jump park installations is an ADJ M4040 mirror ball. The huge 40" diameter ball sits at the middle of the space, and is illuminated by four dedicated ADJ Saber Spot RGBW LED-powered pinspot lights. This fills the walls, ceiling and floor of the venue with a myriad of spinning dots of light.
"The 40-inch mirror ball is really the signature piece for all of my jump park installs," explained Gregg. "Combined with the four Saber Spot RGBWs, it really is incredibly effective. Sometimes we set the spots on a colour scroll, but a lot of the time we stick with just static white. The cool white beam generated by those fixtures is just so bright and crystal clear it creates super sharp beams from the ball which show up really well, especially on the white ceiling. The kids love it and I've even see adults walk in, stare up at the mirrorball and go 'wow'!"
The install also included two of ADJ's Entourage professional-grade 'faze' machines, which are used to enhance the beams created by the effect lights for the weekend evening events. These powerful atmospheric generators are each built into a protective flight case and use a 1400W heating element, combined with a powerful fan, to generate a massive amount of lightshow-enhancing haze.
Having installed so many ADJ fixtures over the past few years, Gregg is perfectly placed to comment on their reliability. "ADJ gear is definitely well made and I've always been impressed by its dependability. We install literally thousands of ADJ fixtures each year and I can honestly say that I've only ever had to make one return, which really is a very impressive track record! The lighting we put into these trampoline parks doesn't have it easy, either. Many of the fixtures are running all day every day, so they soon clock up lots of operating hours yet we never get called back to deal with any lighting failures."
Not only is Gregg happy with the service and products that he receives from ADJ, Altitude Trampoline Parks love working with Gregg and are set to keep the Studio Light and Sound team busy over the coming months fitting out countless new locations as they open. Most importantly the vibrant atmosphere created at the park in Gastonia – and countless more around the country – by ADJ lighting and Gregg's creative vision ensures that the thousands of people flocking through the doors each week have the best possible jump park experience.