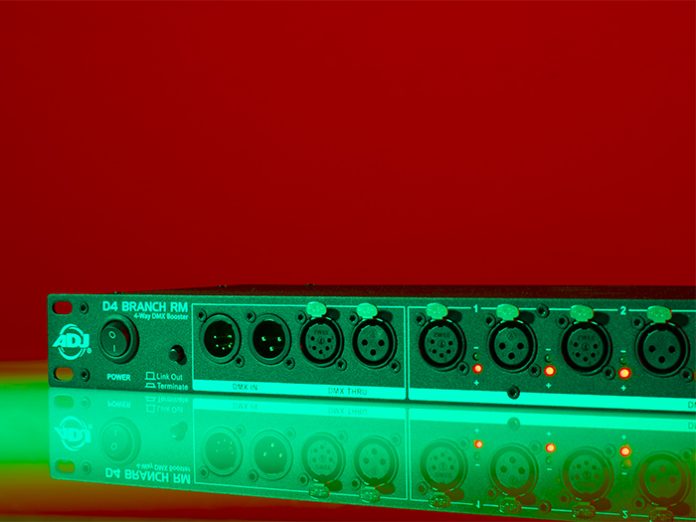 Designed with both touring and permanent installation applications in mind, ADJ Lighting's new D4 Branch RM is a 4-way DMX splitter and booster. The robust and reliable unit offers all the features lighting professionals need to distribute a DMX signal, packed into a compact and lightweight unit.
The D4 Branch RM features DMX input and thru connections in addition to four independent DMX outputs that are electronically isolated from each other to ensure uninterrupted data. Both 3-pin and 5-pin sockets are included for each of these, allowing integration into any DMX-512 system and complete flexibility for rental applications. Signal amplifiers inside the unit boost each of the four outputs, making this an ideal solution for large projects where long data runs are required. In addition, a Link Out / Terminate button and signal LEDs for each of the four outputs aid with trouble shooting.
With a convenient 19" rack mount design, the D4 Branch RM requires just 1U of space. It has measurements of 19" (482mm) by 5.5" (139.8mm) by 1.7" (44mm) and a low weight of 5.3 lbs. (2.4kg). Power is supplied by a trailing cable on the rear of the unit, while a convenient On / Off switch is located on the front panel.
"The latest addition to ADJ's product range, the D4 Branch RM, is a practical ancillary tool for lighting professionals that we know will be valued by many of our customers," comments ADJ USA's National Sales Manager, Alfred Gonzales. "It offers a useful solution for taking a DMX control signal, boosting it, and splitting it into four independent outputs that can be rooted to different areas of a venue or parts of an event lighting setup. With a compact 1U rack mount design, light weight, and rugged construction, it is a reliable tool that is ideal both for installation projects and production/rental companies."
The D4 Branch RM is available now from ADJ USA and will be available from ADJ Europe from the end of January 2022.