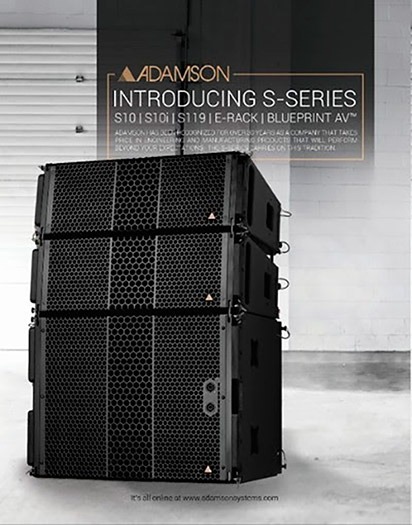 David Dohrmann, Adamson's technical director Asia Pacific, has teamed up with their Chinese Distributor, Real Music, to take the new S10 line array on the road. Real Music and Adamson will host technical seminars and S-Series product demonstrations in four Chinese cities in May 2016.
Consulting firms, integrators and sound engineers are invited to attend any of the four Adamson events held in Beijing (9 May), Shanghai (11 May), Chengdu (13 May) and Guangzhou (15 May). During each seminar, David will provide a product demonstration of the S-Series S10 line arrays supported by the newly introduced S119 compact subwoofers. He will also provide a live demo of the accompanying Blueprint AV simulation suite software and review available E-Rack solutions.
The new S-Series represents a milestone in Adamson history. "The S10 line array offers a very attractive blend of performance, footprint and pricing," stated David. "It pairs Adamson's Controlled Summation Technology with a newly designed 10-inch Kevlar transducer. This combo provides a level of performance that was not expected to be possible in this format."
Real Music recently facilitated the installation of S-Series at both Space Club Chengdu and Chao Club Nanjing. The sound professionals and customers have all expressed extreme satisfaction with their new systems. As a matter of fact, end users from all over the world have been most impressed with the performance.
Blueprint AV simulation software is Adamson's multi-use predictive software suite that operates both in the 2D and 3D realm. Blueprint AV allows system designers and technicians to build a simple or very complex listening area, hang multiple arrays, simulate response with a variety of acoustic measurement tools, and provide a detailed and accurate rigging plot that can be exported to DXF.
"We will walk through the process of designing a system in Blueprint," added David. "It is extremely efficient and a tremendous tool for Adamson users."
Adamson offers sound reinforcement solutions that allow professional audio providers and vendors an opportunity to strengthen their profile and retain margins in a highly competitive environment. All Adamson loudspeakers are optimised to be paired with Lab.gruppen PLM+ amplifiers and DSP technology. Adamson and Lab.gruppen have recently renewed their long standing strategic partnership that has been mutually beneficial for end users for decades.