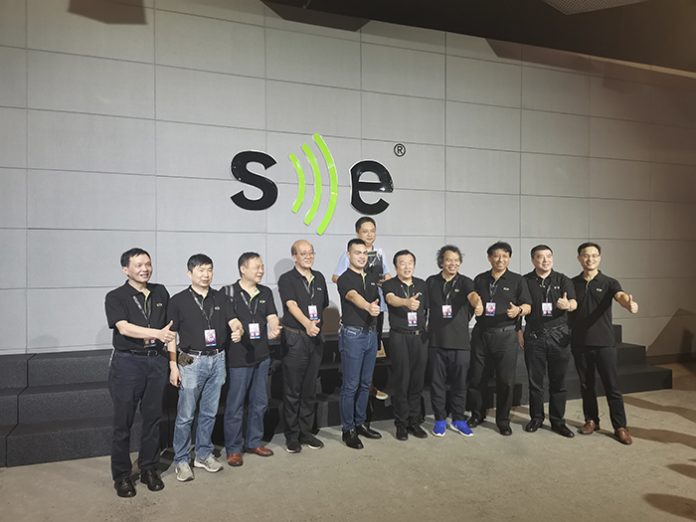 At a press conference in China with more than 200 invited guests from renowned audio associations, large event companies, and the media, a strategic partnership between the global event technology company Adam Hall Group and Speaker Electronic (Jiashan) Co., Ltd was announced. Effective immediately, Speaker Electronic (SE) will take over exclusive distribution for all brands of the Adam Hall Group in China, the world's largest market, including LD Systems, Cameo, Gravity, Defender, Palmer, and Adam Hall. Connected online for this historic moment were Michael von Keitz, Chairman of SE, and Markus Jahnel, COO and Managing Director of the Adam Hall Group, as well as important members of the German team. With its extensive network, Speaker Electronic will now offer the Chinese market high-quality German products and services by the Adam Hall Group from a single source.
The confidence in Speaker Electronic as an exclusive strategic distribution partner is based on the long-term cooperation between SE and the Adam Hall Group that began in 2006. The Chinese subsidiary Speaker Factory is German owned and has been an important supplier for the Neu-Anspach event technology company since that time.
In his video message, Chairman von Keitz spoke of the many years of confidence, fairness, and reliability in the now 14-year cooperation. "Our most important shared goal was and always will be to supply our customers with well-designed quality products," says von Keitz, who is also the German owner of Speaker Factory.
In his opening speech, COO Jahnel mentioned the most important flagship projects of the Adam Hall Group, such as the iconic MAUI P900, developed in cooperation with Porsche Design Studio, and also looked back on the success story of LD Systems as a global player in the pro audio industry. In the process, Jahnel emphasized Speaker Factory as a loyal supplier and contributor to this success. "To now have SE as an exclusive distribution partner for China is a win-win situation and a shared basis for intensive cooperation between China and Germany," stated the COO in his words of praise.
The heads of audio associations offered their congratulations and have high expectations of the cooperation.
In the exhibition hall, experts and VIP customers were invited to see the unveiling of a product highlight from the audio division of the Adam Hall Group, the MAUI P900. A frequently heard sentiment among the crowd was that this exclusive PA column system is a German beauty that leaves an extraordinary impression on many people.