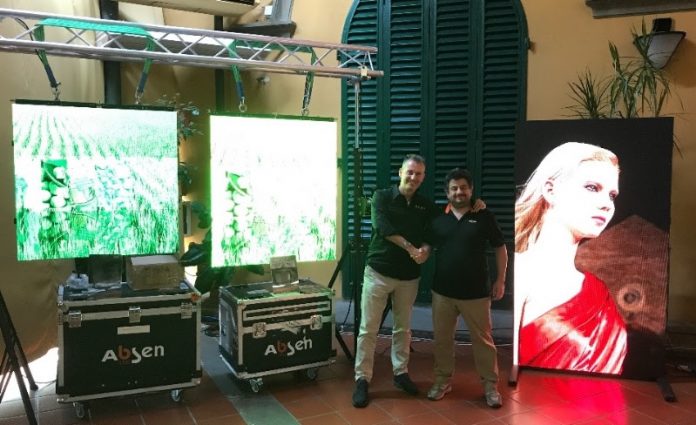 Absen Europe has announced an distribution agreement with leading Italian Pro-AV distributor, Ligra. As an Absen Value Added Partner (VAP), Ligra exclusively distributes Absen's LED Wall products throughout Italy.
 The Italian distributor has made a $450,000 investment to Absen stock to ensure immediate availability at purchase for Ligra's customers. Large rental service companies and major system integrators, as well as global contractors, design firms, architects and professionals will have in-country access to Absen's N Series for indoor installation, Absen's D Series for indoor rental, as well as Absen's X Series rental staging range. Products from these ranges are available for demonstration now on Ligra's Road Show.
 Through feedback from its large and diverse customer base, Ligra identified the time was ripe for a high-quality LED wall presence in Italy. Ligra business manager, Raffaele Losi, explains, "We were seeing customers very dissatisfied with low cost and low-profile LED wall products, which they wanted to replace a year after purchase. The Italian market needs an appropriately-priced, high-quality, indoor rental product amongst other things and the Absen ranges fill the demand. Going forward Absen customers will find in Ligra a single supplier for a wide range of traditional and innovative ProAV products."
 In addition to the stock products, other Absen lines are available exclusively through Ligra as the preferred channel in Italy and imported on request. Ligra supports its channel with a complete offering of products for digital signage, videoconference, video projection, meeting room projects, professional solutions for audio signal distribution and management.
 Absen's N Series is designed for the needs of retail, in store, or as front- or wall showcases. The LED medium maximises visual impact to customers and eliminates image disruption between the screens. Available in N2 version, 2.4mm pitch, and N4, 4mm pitch.
 The D Series for indoor rental, boasts ease of assembly, lightness (7kg / module) and robustness. Available with standard refresh rate and double. Available in D2 version, 2.9mm pitch, and D3, 3.9mm pitch.
 Absen's X Series is the rental stagers staple, lightening the load speeding up build times, thanks to its mechanical innovations High refresh rate, lightweight and innovative mechanics and integrated back-up power supply ensure speed and efficiency in installation and operation continuity even at driver failure. Available in X5 version, 5,2mm pitch, and X7, 7,8mm pitch.
 Alessio Giagnoni, Absen Europe's business development manager for Italy, said, "We are delighted to welcome Ligra into our VAP network. From this important partnership, Ligra will be able to efficiently service its LEDWall product customers with the best quality LED displays available and keep supply within acceptable timeframes. Absen will also support Ligra during its road show throughout Italy and in other important exhibitions to reach local customers and bring Absen's products out of the showroom in Vigolzone. Our sales and technical force will be available at any time to satisfy Ligra's customer needs."