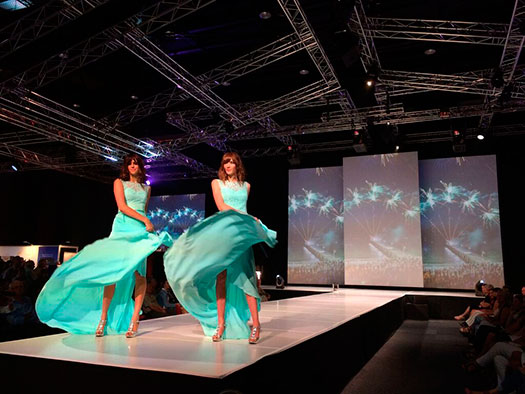 The Adelaide Conventions Centre's new West Building, part of an ongoing $400 million expansion of the facility in the state capital of South Australia, has had all of its rigging, trussing and flying needs designed, supplied and installed by Sydney engineering and distribution firm, HME Services. In addition to supplying their own HME-branded banner hoists, smoke curtains and lighting bars, HME have also designed and installed the world's largest implementation of UK manufacturer Kinesys DigiHoist digital chain motor control system. With 167 hoists across 32 individual grids controlled by 22 DigiHoist eight-channel controllers, the system is even larger than its counterpart in London's O2 Arena.
The grid system, installed into exhibition halls L, M and N, consists of 32 individual moveable grids tiltable in two axes, is capable of stunning, unique looks, and can be controlled by one staff member safely through wired or wireless controllers. HME used its own in-house engineering and manufacturing to design and build the system, supplemented by products it distributes in Australia, including Prolyte and Verlinde Stagemaker.
With one load cell per hoist, and load and position feedback, there's overload and underload protection for each hoist and the grid as a whole, ensuring ultimate safety for audiences and workers alike. Encoder control and programmable presets let staff bring the grid in and out for loading and set-up at the touch of a button, as well as snap to standard states.
"The new grids have drastically reduced our rigging time," says Matthew Stanton, Technical Director at The Adelaide Convention Centre. "For our standard conference set-up in a single hall, it's down to a couple of staff and four hours. No need to focus lights with a lift, and we just drop down to rig drapes and projectors. It's a big labour saving; we used to roll out truss, motors and lights from the store. Now, most equipment's pre- installed, and we just drop the truss down to the right height, plug in our lighting desk, and focus."
"That's the premise of the space," added Glenn Harris, Director of HME. "It's quick, efficient and very different from what you get in any other venue in Australia, or even in the Asia-Pacific region. In designing it, we looked at all our options with regard to lifting standards, dual breaking, load cell methodologies, encoder based position controls, variable or fixed speed chain hoists, cable segregation, trusses, rigging points, services, cable management, and budgetary requirements. The end result looks elegantly simple, which speaks to the amount of design that went into it."
As Australian distributors for the Prolyte Group, HME chose to install Prolyte H40V heavy duty truss for its untouchable strength characteristics. "HME worked with Prolyte to design a custom connection for the corners of the truss," elaborated Glenn. "This enabled the chain hook to attach to the corners of the truss, removing the need for slings. That way, we could achieve head- height and get a much cleaner look."
Powering the grids are Stagemaker SR10 chain hoists from German manufacturer Verlinde Stagemaker, also proudly distributed by HME. With double braking and a T800 chain, the SR10s achieve an 8-to-1 safety factor and can move one tonne at eight metres a minute. HME's own ProBatten product were fitted for power and signal distribution, with one run carrying two 40 amp power circuits, and the other audio, DMX, fibre, and Cat6.
With each's grids ability to move 45 degrees in two axes, cable management became the biggest challenge of the installation. HME designed and built a completely custom solution. "At the end of each truss we built a knuckle that allowed two axes of movement," illustrated Glenn. "We then ran cable management down one side and data down the other. As the grid tilts, its centre of mass moves and it can swing off axis by 600mm, so we built it to handle that degree of freedom. There's a linear slide in the roof that releases that freedom as the girds tilts and rocks off axis. The cable management simply follows across."
The grid's control system was designed in the UK by Kinesys itself. Hand-held wired pendants, connected to HME's custom built points around the exhibition hall walls, allow for quick and easy fly-ins and fly outs via five presets, Kinesys's Vector control software unleashes the full creative capability of the grids, providing comprehensive individual motor control. A Kinesys-designed and HME-built control cabinet handles administration and control of all emergency stops, multiple pendants and multiple operation modes, all designed by Kinesys, whose staff also made the trip to Adelaide for sign-off at commissioning.
"This is the biggest implementation of a DigiHoist system that Kinesys have ever done," Glenn emphasised. "From the HME side, everything is custom made, including the upper slide, hinges and the mount point mechanism. This system has the most fixed positioning load cell chain hoist axes, the greatest range of functionality, and the broadest control we've ever implemented. We can also happily say it exceeds Australian Standards."
In addition to the exhibition hall grid, HME also fitted out the building's Western Corridor with nine HME banner hoists, which are wirelessly controlled via pendant, enabling one staff member to re-brand all foyers with ease. In the Northern Ballroom, HME installed their ProBatten extruded lighting bars to a structural grid above the ceiling tiles, fitted out with power, signal, data and DMX to supply the Centre's installed range of lighting fixtures and loudspeakers. Showing the depth of their product offering, HME also installed the smoke curtaining system that locks off the foyers in case of emergency.