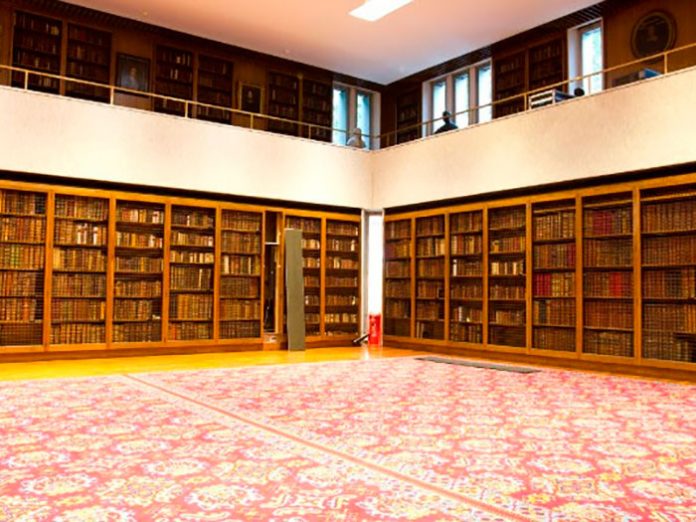 The London headquarters of the Royal College of Physicians, a prestigious medical organisation focused on improving care for patients, is one of only a handful of Grade 1 listed buildings in England. It hosts a wide variety of events across 19 spaces, and has recently installed state-of-the-art K-array systems in the two most impressive spaces, supplied by new UK distributor 2B Heard.
Designed by Sir Denys Lasdun, the architect for the Royal National Theatre as well as other educational buildings, the RCP has event spaces ranging in capacity from six to 350. The two biggest are the Dorchester Library, with its collection of rare books, and the Osler Room. The latter can be combined with the adjacent Long Room, thanks to a movable hydraulic wall (a famously novel feature when the building opened in 1964).
Respectively accommodating up to 250 and 300 people (the Osler can hold 350 when the movable wall is lifted), installer ZAVI Ltd had both the building's listed status and physical properties to contend with when renewing the audio system in both spaces.
"We use these spaces for everything from conferences and drinks receptions to weddings and corporate parties, so we needed audio systems that were capable of providing everything from conference speech, all the way through to sound reinforcement for rock bands," said RCP's technical and Audio / Visual Manager Ben Pain.
"As the youngest Grade 1 listed building in the country, we were not allowed to make structural changes and had a responsibility to respect the building's aesthetics and to complement the architect's vision. It's concrete, acoustically unfriendly and there's a lot of bounce, so we needed a system that was both powerful but also very easy to focus the sound in a particular way."
"The challenge was to throw the audio far enough, but for it to be really controllable. Getting clear sound to the back of the audience, but without it bouncing off the back walls, was a real challenge," added ZAVI Sales Director Kevin Green. "On top of that, there is only around 100mm space behind the cabinets in both rooms."
After comparison with many other systems, an ingenious solution was devised. In each room ZAVI installed two K-array KP102 variable beam loudspeakers and one KU210 ultra thin, high power passive subwoofer, driven by a KA24 four channel power amplifier.
In addition, three portable K-array KR102 systems were supplied – each of which can be used as a standalone system anywhere in the RCP, combined with one or both of the other systems or to provide additional sound reinforcement for the Osler Room and Dorchester Library systems.
"I was at a K-array demo a few years ago and was very impressed at the size, appearance and the amount of sound that they delivered. I liked the sound quality and, because they are line array, there wasn't the same kind of sound drop-off for people at the back of the audience that you get with point source systems," said Ben.
"For this project the emphasis was on sound quality. We compared a lot of systems and in the tests the K-array ticked every single box in terms of sound quality, flexibility, physical size, portability, speed of setup, packing the volume punch we need and clarity, particularly at distance. When you're dealing with speech and people who aren't professional speakers, you really need that clarity."
Both Ben and Kevin also praise the support provided by 2B Heard's Sam Nankivell and Dave Wooster.
"Sam came in and did an excellent demonstration then, once we had installed everything, Dave came in to help us set it all up, configure and get the best out of the equipment," said Kevin. "Dave also provided training for RCP staff on using the systems."
"They gave us a lot of advice," added Ben. "It's really good to have people who have acoustic know-how and aren't just selling you boxes. The training was a great benefit."
"We hope the training opened their eyes to the considerable abilities the systems have, being able to combine them and so on," said Dave Wooster. "They are set for a good period of time with the systems they've got, but the equipment is flexible enough for them to be able to increase the size of the systems if they need to."