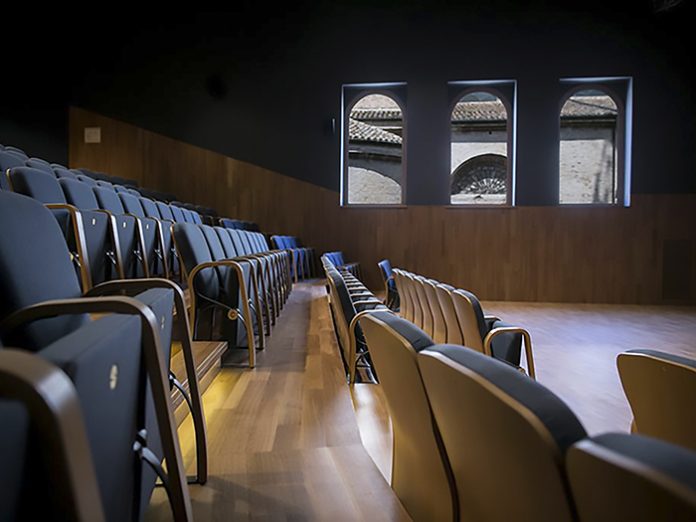 In the small, central Italian town of Tolentino, the Politeama Theater sat neglected for a quarter of a century before efforts began to return it to its rightful place at the heart of the local community. In October 2016, however, the project took on new significance when Tolentino and its surrounding region were struck by a series of earthquakes, including a 6.6 magnitude event that reduced other historic local buildings to rubble. Now the Politeama Theater and its comprehensive refurbishment have become symbols of Tolentino's own resurgence.
The newly rejuvenated theatre was officially inaugurated in May 2017, and it already boasts a full schedule of theatrical, cinematic, musical, and educational events. Work originally began, however, in 2014, when ambitious plans were laid out for the venue's return, including state-of-the-art technical systems. The audio design was devised by Claudio Giacomelli of AV Service, with technical support from Simone Santarelli of Symetrix distributor SISME. At the core of the solution are Symetrix DSPs routing and managing audio across multiple spaces.
On the ground floor, the entrance and main multipurpose performance space are covered by a single Symetrix Radius AEC DSP handling audio requirements ranging from background music to emergency announcements and paging. Equipped with the same 128 (64×64) redundant Dante channels as the original Radius, the Radius AECNadds the benefit of high performance wide-band acoustic echo cancellation featuring zero latency direct outputs and discrete references. Background music sources like Spotify and iTunes are integrated into the Dante network, supported by the Radius DSP. For ease of use, Claudio and his team used SymVue software to create a fully customised GUI, making it simple for the theatre's staff to send different signals to different zones as required.
Meanwhile, in the basement area, Symetrix Prism 8×8 DSPs have been specified for a trio of multipurpose rooms available to host musical performances, workshops, exhibitions and other cultural events. The systems can be combined if required for specific larger-scale events, while Symetrix ARC-SW4e panels facilitate easy and seamless control. An additional Symetrix Radius AEC DSP has been specified in the 170-seat second floor cinema, optimising the performance of the installed sound reinforcement system.
The combination of Dante networking and Symetrix DSPs has delivered a powerful solution for the restored theatre, observes Santarelli: "We are really happy with the results achieved with this new audio system. My role was to assist in the set-up of the Dante network and to support the Symetrix DSP programming, the results of which have been remarkable. The collaboration with Claudio Giacomelli, who is an excellent technician, has resulted in a really high-quality audio and video system for this iconic theatre."
About Symetrix
With unrelenting focus, Symetrix delivers high-performance audio DSP hardware and software backed by the highest caliber of customer care. Early-stage implementation of Dante™ network audio is just one of many ways Symetrix continues to lead with innovation in the commercial AV industry.