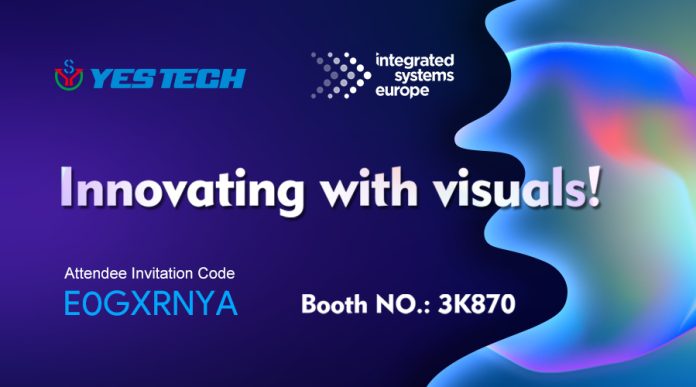 Integrated Systems Europe 2023 (ISE), the leading AV and systems integration exhibition will be held in Barcelona, Spain from 31 January to 3 February.
With the theme 'Innovating with Visuals', YES TECH presents a series of upcoming products, creative content and multi-scenario solutions with the new concept 'Innovative Display.' Here's what to expect from YES TECH at ISE:
1. Four Main Display Solutions
High-end Rental Solution
The new DS series P2.6 XR cabinet and DS series P2.6 regular cabinet to create a high-end rental screen, It will offer the audience a chance to experience the attractions of the "LED screen + XR technology", which is crafted by YES TECH.
High-end Conference Solution
YESTECH will build a realistic high-end conference display scene at the booth, which greatly enhances the viewing experience. It is built from the upgraded COB flip product Mnano II series, and it'll be world launched on the show.
Commercial Naked-eye Solution
The attractive 3 LED walls are created from the indoor fixed Mwall series, incorporating creative naked-eye 3D content that reveals the layering of space.
Rental Staging Solution
The staging rental display area will be newly upgraded! It will showcase the latest member to the Magic Stage range, the Cube Series (45° angle screen), in its first 'collaboration' with MG7S.
2. Cutting-edge Product Matrix
YES TECH insists on starting from the needs of customers, advocate display and move with the industry. The world launch of the new Mnano II series with flip COB technology will bring you an era of visual innovation. The newest member of Magic Stage series – MG7S Cube series, with its innovative design of 45° angle screen, will provide more possibilities for stage rental creativity. There will also be a new member of the DS series of rental category – P2.6 XR cabinet.
Visit YES TECH at Booth no.3K870