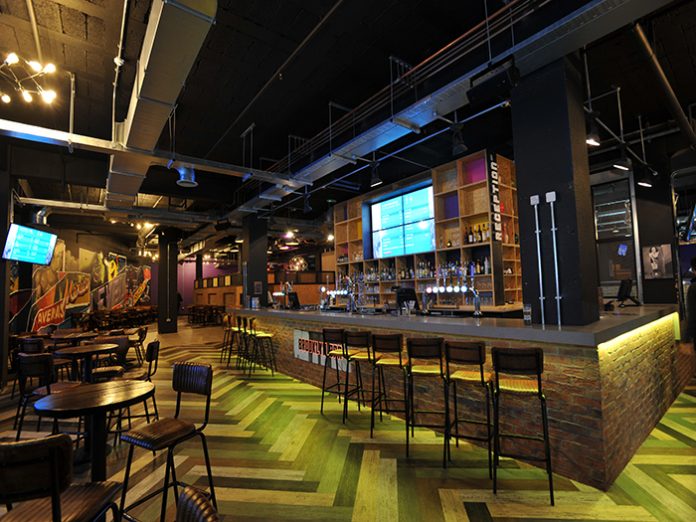 The Preston Guild Hall and Charter Theatre complex undergoes a major upgrade programme; including the installation of a distributed audio system based on Yamaha processors and control.
The project covers the 2034-capacity Grand Hall, 780-capacity Charter Theatre and a range of restaurants and other facilities. In the most recent phase, Autograph Sales & Installations was asked to supply an unobtrusive but powerful multi-zone audio system for Level, a facility providing a wide range of entertainment and activities, including a multi-screen sports bar and nightclub.
Autograph's Ben Tredwell worked closely with the venue's technical manager James Hubbard, who was clear from the start that he wanted a Yamaha-based infrastructure and front end.
"I transitioned from the analogue to digital world using Yamaha products and, because the company has kept its software similar throughout its pro audio ranges, I have always tried to use Yamaha products, both live and in fixed installations. They are easy to understand, intuitive and have a very logical flow.
"We really like the flow, design and reliability of Yamaha's MTX series matrix processors. Mitch Bailey and Michael Gill, my senior techs, have previously installed an MTX5-D with DCP series control panels elsewhere in the building, as well as an MTX3 in another area. We also wanted the ability to link the systems via Dante. Yamaha products integrate extremely well and we don't have the time or need to learn new software for alternative control."
The new phase of the project features two of Yamaha's new PGM1 zone paging microphones, an MRX7-D matrix processor and DCH8 digital controller hub. Control is provided by two DCP4V4S and two DCP1V4S digital panels, as well as ProVisionaire Touch iPad remote control software.
"With ProVisionaire Touch and the new Dante-compatible paging mics, it made sense to use the MRX7-D, which allows each zone to select any input on the system. The inputs include two Sky boxes, two audio sources (streamed and local), two Bluetooth inputs (one behind the bar and another in the VIP area), local DJ input and a link to the cocktail bar, allowing a single DJ to play across two sites and three levels of the second site," says James.
"The MRX7-D allowed us to re-sync and time align audio to two large-format video walls and smaller satellite screens, as well as to individually EQ and limit each output. The Yamaha software also allows us to set maximum levels on the controls for different parts of the building – a real must once an install is handed over to enthusiastic staff!"