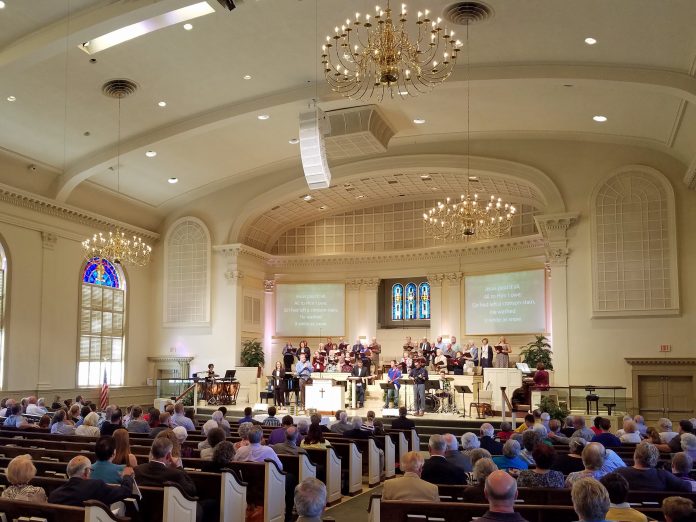 Located in downtown Springfield, First Baptist Church is a multi-generational house of worship with a wide range of ministries designed to engage its varied congregation. Music plays a vital role in the church's services and, to ensure the best possible audio quality so as to keep the congregation fully engaged, church management recently elected to upgrade their sound reinforcement system. Their search for a new sound system resulted in the deployment of loudspeaker enclosures drawn from the TrueLine catalog of WorxAudio Technologies.
Paragon 360 of Springfield, MO, a design / build AV integration firm that handles professional audio, acoustics, video, lighting, scenic, staging, rigging systems, and interior design services for the worship, education, amusement, and commercial markets nationwide, was contracted to handle the installation of First Baptist Church's new sound system. Mark Coble, who oversees Audio/Acoustics Design and Commissioning for the company, ultimately elected to deploy WorxAudio TrueLine XL1i-P 2-way, high efficiency, powered line array elements augmented by TL215S high excursion sub bass enclosures outfitted with dual 15-inch transducers. He discussed the project and his decision to use WorxAudio equipment.
"First Baptist Church is a very traditional space with lots of architectural features and a balcony," Coble explained. "The stage faces into the length of the sanctuary and the area itself is quite reverberant. The choir assumes a significant role during services that, for the most part, are traditional in nature. During the holidays, the church also hosts large scale musical productions. Thus, it was crucial that the new loudspeaker system be capable of handling music reproduction while also delivering a high level of speech intelligibility. Equally important, the loudspeakers had to blend aesthetically into the space so as not to be distracting."
The setup as deployed by Coble and his team includes a center flown loudspeaker cluster consisting of nine WorxAudio XL1i-P line array elements with one additional XL1i-P enclosure mounted to the rear of the suspended loudspeakers that serves as a monitor system for the choir. Two WorxAudio TL215S subwoofers reside hidden inside the cover behind the loudspeaker array. The entire loudspeaker system is painted white so as to blend with the aesthetics of the room.
"With long reverb times associated with a sanctuary built for choir and organ, it was important to keep the sound focused on the seats in order to offer the highest level of speech intelligibility," Coble reports. "This system design is focused primarily on sound reinforcement as opposed to a full-blown concert rig. However, if called upon, this system has plenty of power to handle any praise band or other guest artists that may perform here."
"Previously, there had never been an installed loudspeaker system that was visible in this space," Coble continued. "The loudspeakers were always tucked away behind decorative grills. On this project, we needed to ensure the loudspeakers looked as good as they sound. With the WorxAudio equipment, the white grills and hardware made the system blend into the décor very nicely. The setup looks really good with the overall design of the room."
The new sound system at First Baptist Church was installed during July and placed into service that same month. Since then, Coble reports the setup is performing well, which has resulted in numerous compliments. "We've received a lot of positive feedback," he says, "including from one gentleman who, for quite some time, depended on a hearing assistance device. With the new system, he no longer finds it necessary in order to understand what is being presented. The system's clarity and coverage are excellent. As system designers, we were also pleased that WorxAudio offers a unique grid that allows a rear facing line array element to be used as a choir monitor. It works perfectly to fill the choir loft while keeping sound off of the walls. The WorxAudio equipment enabled us to deliver a capable system that delivers everything our client expected. It's been a win-win situation for all involved."