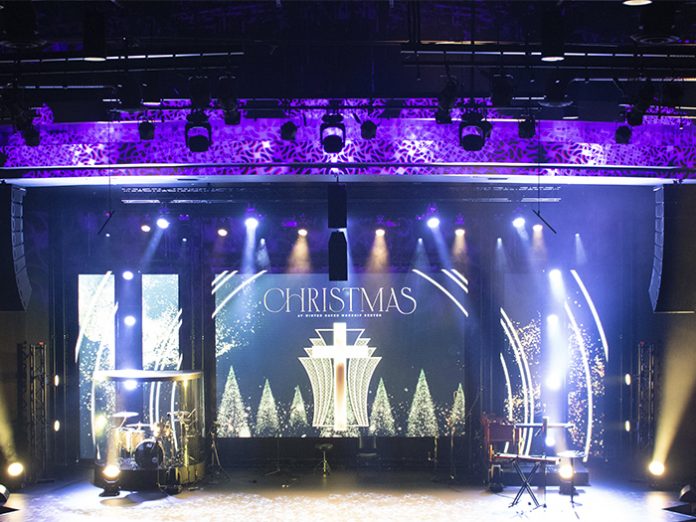 Winter Haven Worship Center in Winter Haven, Florida, has installed a new Adamson PA system in their 1000-seat facility. The new system features a main stereo hang of nine IS10b sub-compact line array cabinets on each side, along with a total of four IS10pb full-range point source cabinets for outside and centre fill. Eight PC5i ultra-compact coaxial loudspeakers were incorporated for front row nearfield coverage. Finally, for low frequency reinforcement, they installed an under-stage sub arc, consisting of eight IS119b.
MABE, a faith-based AV production and installation company based in Florida, completed the installation with the help of Adamson territory rep Griffith Sales. While there were many challenges with the prior PA, the installation team was able to make use of some existing equipment racks and power distribution to keep the costs down for the client.
Richard Vaughan, MABE's Lead Engineer, explained: "The previous system lacked clarity and dynamics. It did not cover the entire listening area, was aging, and had some bad components. The system was not capable of reproducing the high energy worship style without getting very harsh, which resulted in listener fatigue."
The pre-installation process for the IS-Series system required 3D CAD drawings and several site visits to verify the precise location of each loudspeaker. Incorporating a large format line array into the space called for plenty of planning to leave the aesthetics and site lines unaffected. The MABE design team redesigned the stage cavities to make room for the new Adamson IS119 subwoofers and PC5i front fills so they would be heard clearly without being seen. The end-product PA design allowed for variation of only 3dB throughout the room.
Brandon Collins, Worship Pastor at Winter Haven Worship Center, remarked, "After hearing a few other systems, we preferred the warmth and presence we heard in the Adamson boxes." Collins also noted: "MABE was incredible to work with as they always are. They had everything planned and very organized. The entire installation was completed in time for us to run everything Sunday."
Steve Griner, Account Manager at MABE, explained: "The Adamson system covered the room so well and gave such a warm sound. I am constantly impressed with how smooth the vocal range is on these boxes. The Adamson, overall, is a very smooth-sounding box that even at higher SPL doesn't give you the ear fatigue you get with a lot of other manufacturers. We did demo and review some other boxes with the client, but it was clear that the Adamson system was the winner in coverage, sound quality, and bottom-line cost."
With strategic planning and thorough technical preparation, the outcome was a system that blends well into the environment. "The client is extremely happy with the result," mentioned Vaughan.