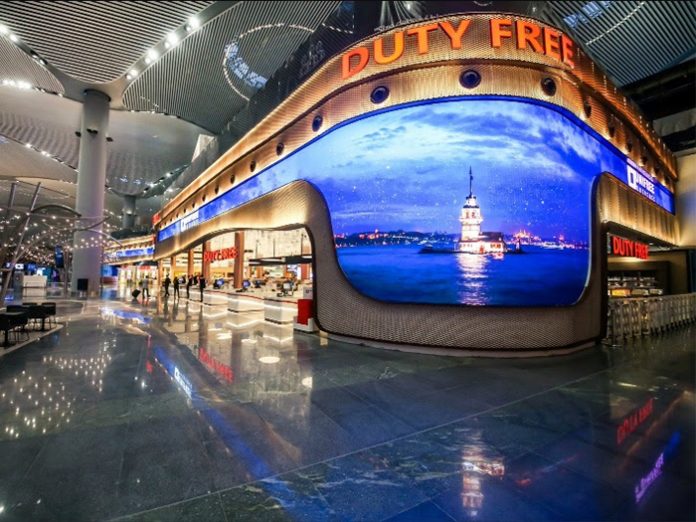 Set to become the world's largest airport, the US$11bn (€9.6bn) Istanbul Airport is located on the outskirts of Istanbul, Turkey, where it will eventually handle up to 200 million passengers a year – eclipsing the former Ataturk Airport.
At the heart of the new airport terminal, is the newly constructed Unifree Duty-Free area, which at 53,000sqm, is the biggest duty-free shopping area in the world – equivalent to nine football fields – and home to 54 brands and 71 retail stores.
Over 1,000sqm of Absen LED was used to create a visually striking experience for passengers and advertisers, including a 300m-long curved LED façade that follows the walkway through the duty-free area as well as two 120sqm ceiling-mounted video screens on either end of the terminal.
This ambitious project was overseen by integrator Astel who followed a brief given by joint managers of the area – Turkish company Unifree and German retail company Gebr Heinemann. Astel was appointed based on their impressive track record creating custom digital display solutions and their deep understanding of working with LED.
Following an extensive evaluation process, Unifree opted to use LED products by Absen due to their high brightness, clarity and wide viewing angles, as well as the company's experience on other major airport projects.
"From an LED perspective, a project of this scale was truly unprecedented. Many parts of it were challenging, particularly the non-standard, curved LED segments, because the architectural design of the Duty-Free shopping façade was inspired by the Bosporus – the free-flowing water gateway that separates Europe from Asia", explained Cilga Ozcelik, sales support manager at Astel.
For the 300m-long display, Astel had to install each section in waves, fitting the LED tiles at different angles and using special connectors between the screens. Due to the curved design, the cabinets had to be significantly modified to achieve the desired effect. The curved façade is made of Absen's N2.5 LED screen, which features a 2.5mm pixel pitch and 1,500 nits brightness.
On either end of the duty-free shopping area are two towering 120sqm LED screens that greet passengers as they enter their respective departure terminals. The video walls are made of Absen's N5D Plus displays which feature a 5.2mm pixel pitch and 3,500nits ultra-high brightness to ensure content is clearly visible from afar.
Installing the two giant hanging video walls into the non-standard architectural design of the new airport brought with it its own technical challenges, recalls Selen Guler Arabaci, business development manager for Absen.
"The ceilings at the airport are not able to take no more than 5 tonnes of weight so Absen provided the lightest LED tiles available, without compromising the visual performance. Astel also created a lighter bracket to mount the screens from." she said. "A specially-designed motorised lift was then used to hoist and secure the video walls into position 8m metres above the ground".
"Having to install such a large amount of LED in such a secure environment and within a very limited four-month timeframe, was extremely challenging," said Shaun Xu, Absen's regional manager. "Astel had technicians onsite 24/7 for many weeks to ensure the project was completed on time and to the highest level."
The running of this complex visual network is managed by Sistem9 who provided central management and control of all the screens with its signage software S9Vision. Sistem9 also provided price checker, wayfinding, video analytics and exchange rate information flowing of the duty-free area, as well as providing a remote monitoring service and onsite support to ensure all systems operate at peak performance.
"The LED screens have been in operation since the beginning of the year and we have been extremely pleased with the result", said Osman Ayhan, Unifree's IT Director. "The shopfront façades of our Istanbul Airport Duty-Free store in particular, have attracted the most attention of our passengers. Our goal in almost all of these digital applications is to differentiate the shopping experience for our visitors at the airport and make them more enjoyable for them. We believe we have achieved this and made Istanbul airport the destination of choice for travellers."