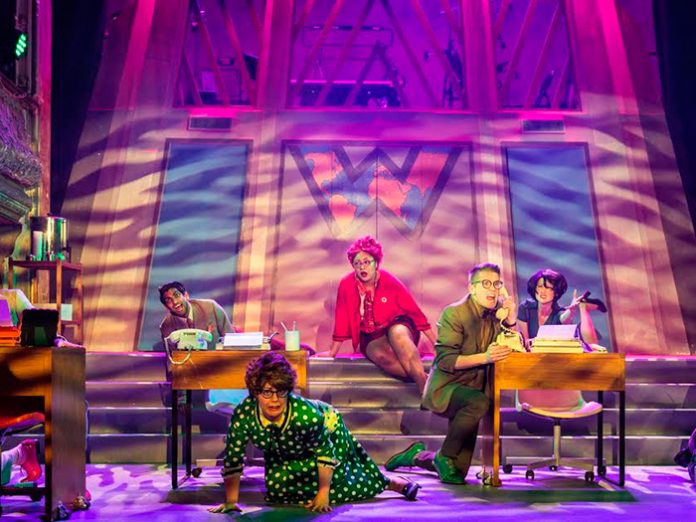 Following its opening on Broadway in 1961, 'How to Succeed in Business Without Really Trying' is considered to be one of the most iconic musicals of all time. With music by the legendary Frank Loesser, the musical is a past recipient of the Pulitzer Prize for Drama along with the Tony Award for Best Musical and Best Book. It was recently revived at London's iconic Wilton's Music Hall and White Light supplied the equipment.
How to Succeed tells the story of J. Pierrepont Finch who rises from lowly window washer to high-powered executive. The show is directed by Benji Sperring with a lighting design by the award-winning Nic Farman. Nic comments: "What's great about working with Benji in particular is that he really allows me to make lighting become an integral part of the story telling. It was about creating caricature through the lighting and being brave with the design as we wanted to put our stamp on the show and make it appeal to a modern audience without losing the 60s era that the show is set in. Similarly, Mike Lees, the set and costume designer, created a beautiful perspective set and furnished the 'office' with brightly coloured props that connected to each character, so that gave me licence to use strong colours both in the scene work and songs".
This was the first time that Nic had worked at Wilton's Music Hall. He states: "While the venue's architecture is truly stunning, it does throw up a number of issues; namely the lack of overhead rigging on the forestage which is where the majority of our show was staged! I negated this by rigging all of the front of house from the circle front to get light onto the fore stage. This shallow angle front light worked well with the 'comic book' nature of the show and design".
Nic also had to contend with a very limited set-up time, with a load in Thursday morning that had to be ready for a Saturday matinee. He states: "It was important to keep the rig as streamlined as possible which meant keeping unit numbers low. As the concept was to use a lot of colour I decided early on to go down the LED route. The front of house wash used ETC Source Four Lustr 2s which were perfect as they were as good doing subtle colour correction as bold saturated colours and their output is also great.
He adds: "Side and backlight was a combination of Elation SixPARs and Stairville LED Pars and we dressed the large building facade set piece with Chauvet COLORado 72 Tour battens. Having an infinite colour palette available from these few units allowed a huge number of looks to be created. Coemar Infinity M spots were used from front of house positions and Martin MAC 700 Spots were used for backlight. I really liked being able to call on the animation wheel of the Mac 700's to layer effects over the stage and it really added a lot to my overall design".
The show recently finished its run at Wilton's, with this production marking more than fifty years since it was last performed in London.
Nic adds: "This was an ambitious production with tight deadlines but I had a strong team behind me to make it work. The in-house technical team of Ryan and Jake were utterly fantastic and made putting the show in as smooth as possible. Similarly, the WL team, in particular Tom Wilkes and Emilie Cheshire, were extremely helpful".