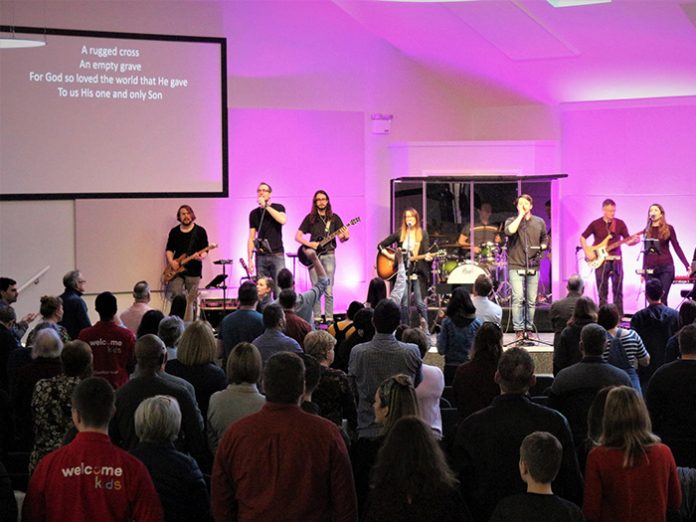 Welcome Church in Woking, UK, has recently completed a major audio renovation with a brand-new Allen & Heath Avantis console taking centre stage.
Hosting two Sunday services each week for its growing congregation and providing meeting spaces and activity groups for local children, the church decided to renovate its existing building, while constructing and expanding into a new auditorium located at the back of the property.
Supplied by AV company SFL, an Avantis console fitted with a Dante card for multi-track recording is placed at FOH, while 14 ME-1 personal mixers are used for the band's IEMs, providing each musician with precise control over their own mixes. With Allen & Heath's extensive range of 'Everything I/O' hardware options, Welcome Church also deploys GX4816 and DX168 expanders for further remote I/O expansion.
"As an organisation that has a lot of volunteers, we needed a system that had an easy-to-use, yet professional workflow but also had access to other, in-depth features and processing tools," Charles C, Production Lead at Welcome Church Woking, commented. "Avantis has a similar workflow to the previous Allen & Heath desks we've owned, such as the GLD and SQ, but incomparable benefits such as the channel count, processing, displays and design, to name a few."
Andrew Hardiman, Project Manager at SFL explained: "Console options from several major manufacturers were considered, however when the new Avantis console was announced, it clearly became the console of choice for Welcome Church. Filling the product gap between SQ and dLive, Avantis offers the church a natural progression from their GLD systems, direct compatibility with the existing ME-1 personal monitoring systems and the opportunity to later expand."
With limited time before their next service, the team wanted to get the new system up and running as quickly as possible and within hours of receiving and getting hands-on with the console, the production team had connected and configured their entire ecosystem. "We had three services to run to around 500 people per session that day, so we were under quite a bit of pressure to get the Avantis up and running in time. The desk was used pretty much straight out of the box and within three hours, we had unboxed, connected and configured the ME-1s, Dante outputs for recording and various other nuances and, most importantly, had a working mix." Charles explained.
Charles concluded: "The Avantis didn't miss a beat, the Continuity UI worked perfectly and once our sound engineering team have tuned their muscle memory to using it, I'm confident it will make our workflow more efficient."