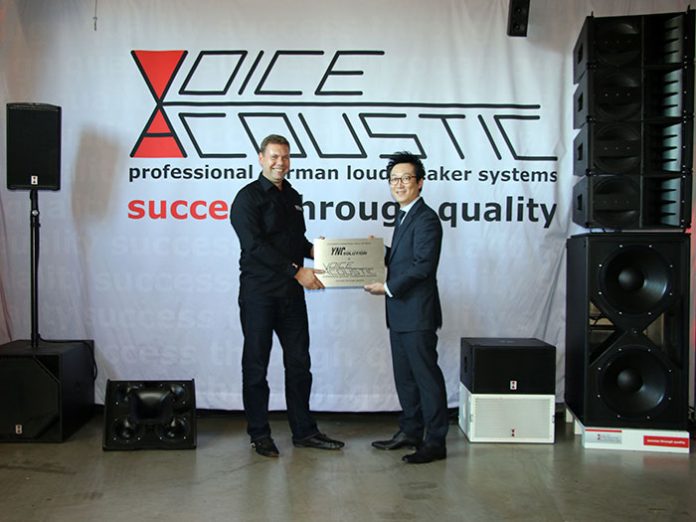 Following the recent start of new distributor GWH event engineering in Austria, Voice Acoustic signed an agreement with YNC Solution for the distribution of its German made high end products in the korean market.
Based upon an intense product demo at the Voice Acoustic factory in August GWH's owner Mr Oliver Hoffmann took the decision to become the exclusive distributor for Austria.
Mr. Hoffmann is a comparatively young player within the very traditional audio market in Austria and represents a new generation of AV managers who are well educated (both technical and on the field of management and administration) and started their entrepreneurship already in their younger years.
GWH from the Norther Western area of Austria (in between Salzburg and Linz) is well known for its premium class event engineering and with the addition of the entire Voice Acoustic line will now move into the field of distribution and sales as well.
"From our point of view personal customer relation and support plus high end products have highest priority in the professional audio market" explains GWH Founder and CEO Oliver Hoffmann. "When it comes to high end products after a long time of product tests and evaluation we found Voice Acoustic to be a perfect match for us in terms of product quality and personal relation. We're sharing the same ideas with the Voice Acoustic team and together we'll approach the market with our premium class portfolio to make new clients excited".
As well as GWH also YNC is a new player in the market. YNC Solution has been set up around a well experienced team that understands the business of SI companies in Korea.
Terrie Lee, Representative Director of YNC states: "We at YNC Solution are well familiar with the business of System Integrators and our team takes on the challenge on a highly competitive market like Korea".
Also following an intense product demo at the factory in early October YNC decided to promote the entire range of Voice Acoustic high end products.
Mr. Stefan Rast, Owner of Voice Acoustic states: "In both traditional and competitive markets of Austria and Korea we've waited for the right partners who understand our product philosophy and spirit of the company and we're very happy to have GWH and YNC in our team. They're a perfect match to our existing distributors from other areas."