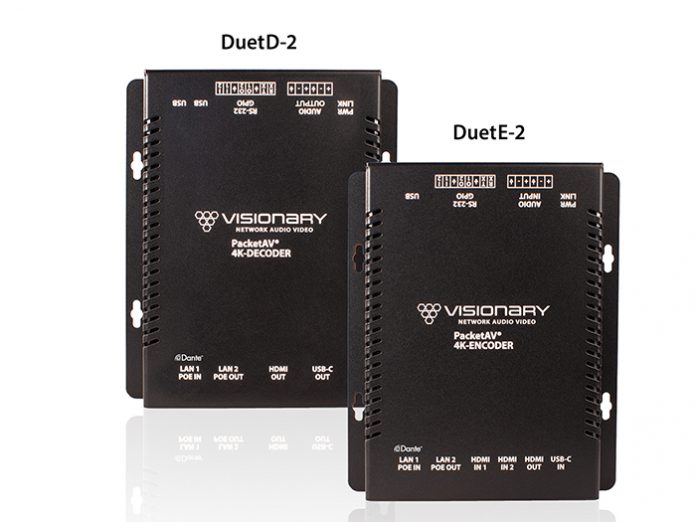 Visionary Solutions, a leader in high-quality network AV solutions, has announced the release of the PacketAV DUET 2 Encoder and Decoder, the world's first AV-over-IP endpoints with built-in USB-C connectivity for distributing 4K UHD Video and Dante/AES67 over Gigabit Ethernet.
Boasting significant new updates to Visionary's acclaimed PacketAV DUET Series, the new DUET 2 encoders and decoders deliver 4K UHD video, Dante/AES67 connectivity and control, all via a single Main Gigabit LAN port. USB-C connectivity is standard, offering easy connection for sharing media via laptop, tablet, phone, or other USB-C connected devices, as well as enabling soft-codec integration via driverless USB 2.0 connection to a PC for web conferencing applications such as Zoom, Skype, Cisco WebEx, and Microsoft Teams.
DUET 2 endpoints are also equipped with an Ethernet Expansion port, enabling network connectivity for control and managed IP traffic pass-through to remote devices including projectors, displays, and touch panels controllers. This expansion port also supports Power Over Ethernet (PoE) pass-through to connected devices for added flexibility.
DUET 2 units also offer multiple selectable local input sources with HDMI loop-through, enabling automatic switching between USB-C and dual HDMI input sources via input detect mode, or via programmed control system or web browser.
Scott Freshman, Visionary COO, remarked: "The DUET 2 marks the first of a new generation of technologies that Visionary Solutions will be introducing as part of our 25th anniversary commitment to providing our customers with the most advanced and powerful technologies available."