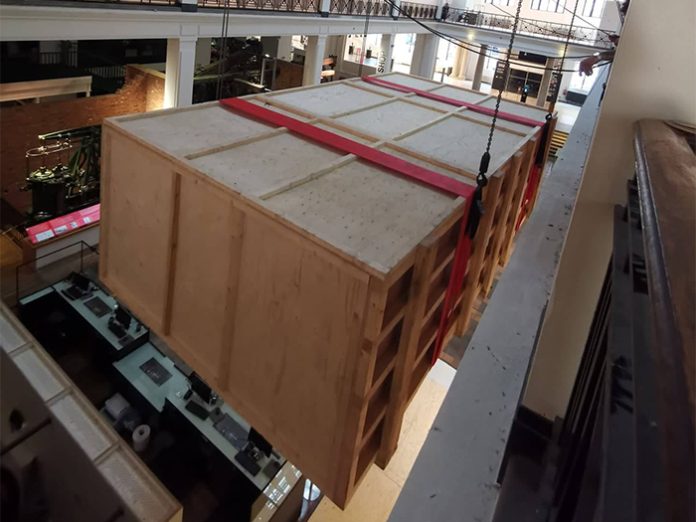 Thomas Heatherwick's Materials House was commissioned by the Science Museum in London as an exhibit to show "everything that anything can be made of" for the Challenge of Materials gallery. The idea was that, instead of prioritising any one material to make the House from, and then exhibiting small samples of all the other materials within it, the studio chose to make the House itself from all of the materials.
The result – six-metre-high pieces of each material bonded together into a single element of many strata was built in situ on the first floor of the museum in 1999 and remained a centrepiece of the gallery until December 2021, when Unusual Rigging was called upon to help the museum remove the exhibit from its long-time home, and lower it to the ground floor, ready for transportation to be held in storage.
Robin Elias, director at Unusual Rigging explained: "Materials House is a fantastic artwork made of 213 materials, bonded together in over 2000 individually shaped pieces sourced from more than eighty suppliers and sponsors. Measuring 7m by 4m by 1.5m, it had been welded to substantial steel foundations beneath the floorboards at the museum. It was displayed at a jaunty angle and restrained by attachment to an overhead beam, but it had no useful fixing points and was of indeterminate weight but estimated to be between 4-8 tons."
In order to be able to move Materials House in one piece, Unusual needed to remedy this – it was vital to know the exact weight of the exhibit and design and install a system to allow the team to move it.
Robin continued: "The first stage was to design & build a frame for the House, and a gantry to enable us to disconnect Materials House from the foundations and the roof beam of the venue before lowering it carefully onto its front face. We then assisted with crating the artwork, and at this point we weighed it and found it to be 6000kg."
With this knowledge, Unusual was able to move the crate as far as the handrail of the first-floor gallery.
Second stage was to install the system that Robin & the team had designed, for lifting and tracking the crate, changing its orientation in mid-air before finally landing it on the ground floor in a relatively confined space. It was then handed over to the transport company to safely deliver it to its temporary storage place before being displayed at another gallery sometime in the future.
Robin concluded: "We know the science museum extremely well, having installed and decommissioned a number of challenging artworks there over the years, but Heatherwick's Materials House was certainly a real brain teaser. Having been built entirely in situ, there was no guarantee that it could be removed from its home in one piece. Challenging? Yes. Impossible? No – with special thanks to Unusual's Leon Ingram and the design team who made it happen on site."