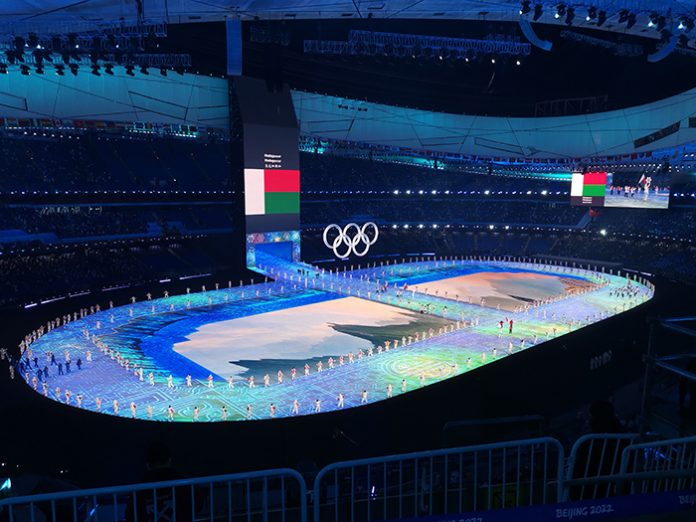 Unilumin provided 4500m2 in LED floor screens for the opening ceremony in Beijing 2022. Joined by BOE and other industry partners, Unilumin successfully completed the world-class task of building the world's largest LED floor stage, which has amazed the world.
The LED floor screen at the opening ceremony was the largest LED floor display stage in the world, with a total area of 11,626m2. It combined naked-eye 3D technology and interactive motion capture, enhanced by finely designed 3D visual effects to create a magical world of ice and snow. This immersive audio-visual feast was based on traditional Chinese culture while reflecting science and technology romanticism. Presented with LED lighting and display technology, it has stunned the world.
Unilumin customized the 4500m2 waterproof, slip-resistant and anti-glare LED floor screen with high load capacity especially for the big event. The screen is able to bear over 1 ton per square meter. The LED floor screen can display 8K high-definition video, even in extreme situations such as the -20℃ freezing winter environment and the frequent intense impacts of actors' rehearsals and heavy-duty machines.
The screen is also equipped with a specially customized cover which is not only anti-glare, moiré-resistant and anti-slip, but also presents soft images with a transparent visual effect similar to snow and ice, ensuring the opening ceremony was wonderfully presented.
During a global event like this, the LED floor screen needed to be extremely reliable and stable. In accordance with aerospace standards, during Unilumin's production and inventory, it has achieved the backup system of double power supplies, double lights and double screens. More simply, each LED module is composed of A and B screens that together form a complete screen as a dual-screen system. Should one half of the system malfunction somehow, the other half will immediately take over to ensure uninterrupted performance.
In addition to the LED floor screen at the opening ceremony, as the exclusive partner in LED industry for TEAM CHINA, Unilumin has also introduced LED lighting and display technology into many competition venues and training bases.
1. Wukesong Ice Sports Center Cube Display and Ribbon Display provide high-quality service for Beijing ice hockey competition training and warm-ups.
2. Large LED display screens in the Olympic Preparation Office of the General Administration of Sport of China.
3. Ribbon Display at Zhangjiakou Bashang Training Base.
4. Ribbon Display at Zhangjiakou Athlete Training Center.
5. Outdoor Ribbon Display at Zhangjiakou Indoor Natatorium
6. Large Screens for the Weightlifting Sports Management Center of the General Administration of Sport of China.
7. Large Screens in the Olympic Lecture Hall of the General Administration of Sport of China.
The amazing Beijing 2022 Opening Ceremony witnessed the endless charm of the LED lighting and display industry, which is also a new starting point for Unilumin's work in sporting events. Let's look forward together to Unilumin empowering the brand-new future of sports.