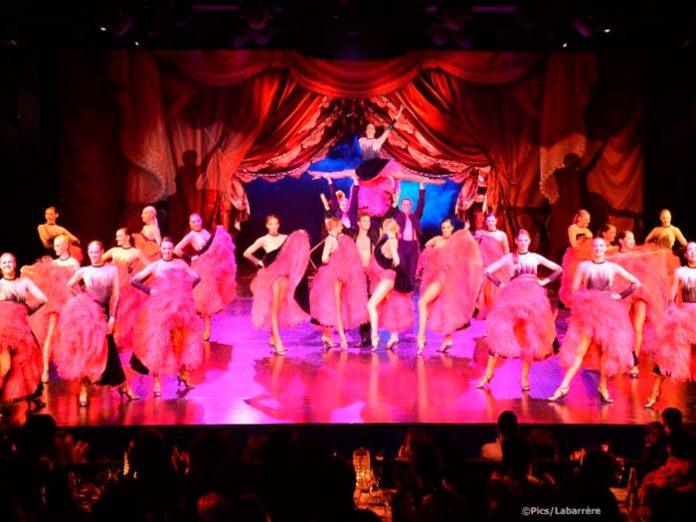 The curtains have reopened in style at Paris's legendary Le Lido cabaret venue carried by Triple E tracks and motors.
The famous Lido on the Champs-Élysées closed at the end of 2014 for renovation, which included remodelling the ceiling and installing new track systems. The venue now boasts a brand new show created by Dragone, the cultural creation company founded by Italian-Belgian Theatre Director, Franco Dragone, who also directed the show.
Blackout France was commissioned to design and install the track systems and motors. The works echoed Triple E and Blackout's collaboration 12 years ago, where a series of Chaintrack and Erail solutions were installed and remained until last year. New systems were required this time because of changes to the ceiling following the discovery of Asbestos.
"We got the call from Dragone in the summer of 2014, saying they wanted us to renew the track systems and motors," said Blackout's, Dominic Peissel. "We have a strong working relationship with Triple E and so of course we went straight to them."
Inside Le Lido, the main front of house (FOH) curtain is made from a metal woven chainmail fabric that runs on Chaintrack. The secondary FOH curtain is sequined blue velour and hangs from a 'Chaintrack hybrid', called ChainRail which as the name suggests is Chaintrack with Erail beneath it using the chain system to drive the Erail track. The curtains on this track stack conventionally whereas the chain mail curtain which needs to stay completely flat at all times doubles back on itself when offstage.
Further tracks were employed to provide versatile curtaining for the two side boxes for the show caller and DJ, which are revealed after the main show. Strips of Chaintrack UHMW were used to create circular tracks to fit the new layout in the venue, another variation unique to Le Lido is a rearfold system developed for the chain driven Erail tracks.
"There were a few tracks that we had to invent, using Triple E's parts, for this project," Dominic continued. "For instance, the main Chaintrack holding the metal curtain stacks in a very small area, so that all had to be thought about and designed. We needed to rethink the manual override, as well as some circular tracks just using the Chaintrack extrusion. Thankfully, Triple E's MD David Edelstein and our own installation engineer Richard Viollet who both worked on the original installation in 2000 were on hand to ensure we could make it all work!
Because of the complexity of the ceiling structure it was decided to build a laser profiled steel template with all of the track fixing holes pre-cut. This fabrication was welded to the roof structure in advance of the main installation and subsequently made the process of attaching the tracks much easier. The Chaintrack system has been used around the world since its introduction fifteen years ago. It consists of a machined UHMW section which carries the upper portion of a 3/8inch duplex roller chain. The UHMW is inserted into an aluminium profile designed by and exclusively extruded for Triple E.
"The lead time for this project was incredibly tight, but thanks to our great working relationship with Triple E, Blackout was able to deliver," said Dominic. "In addition, it is repeat business which obviously proves that the material that we put in there twelve years ago was good. I can honestly say that the tracks were still in good working order after all this time."
Triple E has worked with Blackout France on many large and unusual projects around the world for more than 25 years.
"We don't often get the opportunity to repeat projects like this and it was pleasing to note that the systems we removed showed very little signs of wear after over five thousand shows and around 50 thousand open / close cycles. It's testament to the robustness and reliability of our products that they were still in smooth working order after all this time," said David Edelstein. "We're proud that Triple E's track systems are providing a steadfast, simple to use solution for Dragone's new show and are helping continue the legendary Lido's entertainment."
Each Le Lido show features singers and dancers, which always include the famous Bluebell Girls. Two shows are run every day of the week.