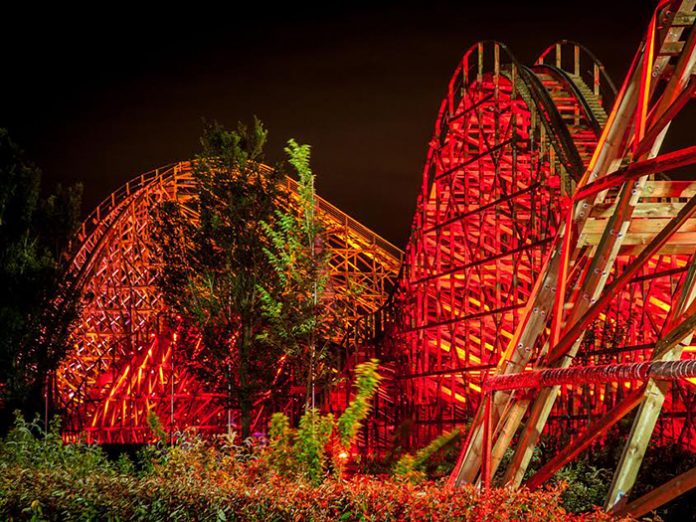 Creative lighting and visual design practice Painting with Light is delighted to be able to add its own touches of magic and excitement for thrill-seekers enjoying 'Heidi The Ride', the stunning new 71 km/h wooden roller coaster due to open April 1st 2017 right at the heart of Heidiland, a new area at the Plopsaland De Panne theme park in Belgium.
Heidi The Ride – themed after the highly successful Heidi TV show produced by Studio 100, who own the park – is a new 6 million euro investment built by Great Coasters International. She soars majestically up to 22 metres high with a track of 618 metres, and her construction involved 56,846 metres of wood, 95,723 bolts and 181,198 nails with 784 mainstays holding everything secure.
"It was a really amazing honour to be invited to light this beautiful and intricate structure" explained Painting with Light's Luc Peumans, whose concept involved highlighting the detail of the structure which resembles an artwork in its own right as well as giving Heidi an iconic overall appearance that will stick in the minds of all who visit the popular theme park.
"The interesting shape immediately evoked a range of different lighting treatments," he said. In addition to the imaginative elements, there were the practicalities of the installation – the fixtures needed to be IP rated for outdoor use, tough to withstand the general environment and accessible for maintenance.
After considerable research and testing, Luc created a lighting scheme which involves three layers – internal (inside), external with a selection of fixtures grazing up the sides of the structure and thirdly some oblique lights to illuminate the drama of the ramps.
Heidi's commanding position at the end of the park also demanded that she had a beacon-like appearance for all – both park visitors and passers-by – to see at night. Luc and the team decided on Chauvet's Iluminarc architectural range.
The 74 x fixtures are a combination of the Colorist Pod 7QAs, Colorist Panel 8QAs and 36QAs and Colorist Line 12QAs and 6QAs.
These were chosen for their robustness, quality and light output. "The whole ILUMINARC range is ideal for exterior illumination projects like this" says Luc "with the floods, lines and small pods there is a great choice for filling lots of different areas and spaces. For continuity of colour, output, etc. we wanted to use just one manufacturer".
He adds that these Chauvet fixtures also represent great value which is also important for any long term installation. Most of the lights are positioned on the ground, embedded into or rigged on concrete blocks so they can be easily reached and serviced as necessary.
The lighting installation was completed by electrical contractors Delimo and the exact positioning was overseen by Painting with Light's crew who then focused, fine-tuned, commissioned and programmed an initial series of looks and effects. They received great support from Chauvet's Benelux operation in Ghent.
The stylish results of the lighting scheme speak for themselves as Heidi's voluptuous curvature defines that section of the park, providing an important reference point and an impressive, shimmering landmark.
The coaster is the first part of the new Heidi Zone at Plopsaland for which the final phase of construction is now in progress scheduled to open for the new 2017 season. Lighting design for the entire area is being co-ordinated by Painting with Light.