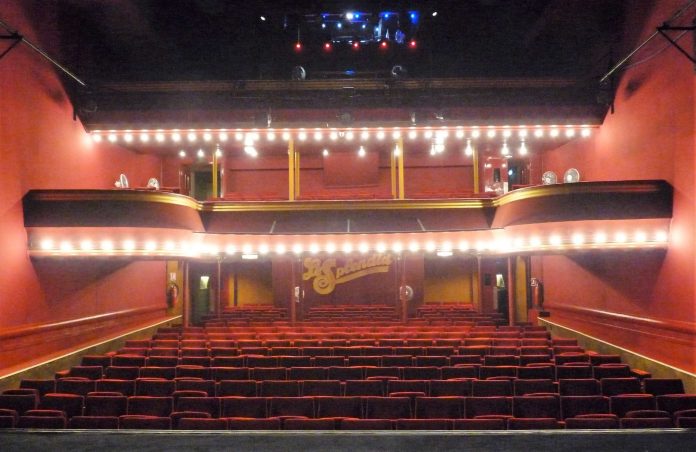 The Théâtre du Splendid, an emblematic Parisian venue known for its rich artistic past, has chosen to convert its fleet of Robert Juliat 600SX tungsten profile fixtures to LED using Robert Juliat Sully LED modules, to comply with the fast-approaching regulatory requirements for energy transition. 
With a capacity of 300 seats and an eclectic program, the Théâtre du Splendid is well served with Robert Juliat equipment.
This includes a set of eight Robert Juliat 600SX profiles rigged across the front-of-house and overstage, which were recently converted to LED using the Sully LED 115W module in warm white. The LED source with its colour temperature of 3000K and 98 CRI is perfect for the Théâtre du Splendid. 
"It's a cost-effective, long-lasting solution that maintains the level of technical excellence expected of a profile," explained Thomas Rouxel, the Théâtre's technical director and a fervent fan of Robert Juliat fixtures.
"The assembly of the Sully modules to convert our 600SX tungsten profiles was quick and easy, and child's play. 
"We also replaced the existing double condenser lens in our profiles with one specially treated for LEDs, on the advice of So What & Co, the Robert Juliat distributor we worked with on this conversion project.
This option proved particularly effective on our products, whose optics needed a little refreshing. The result is indisputable: the beautiful quality of the rendered light, the sharpness of the shutter cuts and of the projected image." 
"It's great to see two long-established French players, one a user and the other a manufacturer, joining forces to enhance the value of existing equipment," said François Juliat, Managing Director of Robert Juliat. "We are both committed to technological innovation in the service of the performing arts."