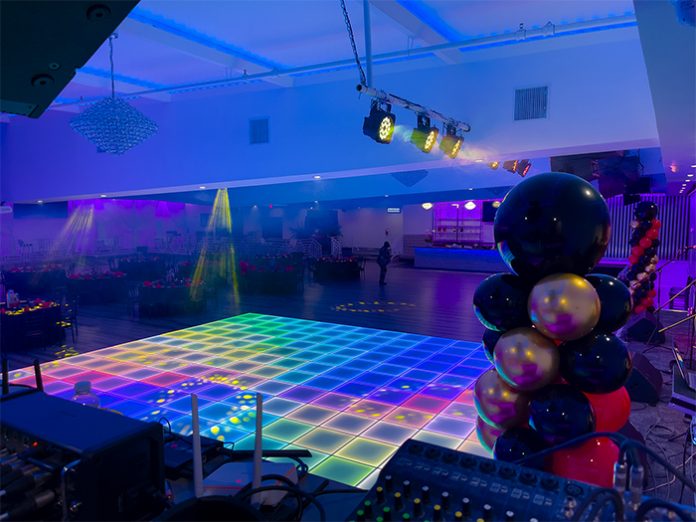 A large banqueting hall in Los Angeles has installed an extensive new lighting system comprised exclusively of ADJ fixtures. At the heart of the venue's lighting setup is a huge, illuminated dancefloor comprised of 225 of ADJ's MDF2 LED-lit panels. This signature feature is complemented by a variety of other lighting fixtures, including LED pars shining on the stage, LED bars downlighting the walls around the hall and moving head beams which fill the space with piercing aerial effects.
The Manchester Banquet Hall in Los Angeles, California is a premier event venue used for a wide variety of private gatherings from weddings, birthdays, and quinceañeras to corporate presentations and holiday parties. Catering for up to 200 guests, the large space features a permanent bar, stage, and DJ booth, together with versatile furniture which can be setup to accommodate the requirements of each event.
The owners, who also run Leonardo's nightclub and the La Valentina Mexican restaurant from the same site as well as a number of other LA venues, recently decided to have a permanent lighting system installed. Looking for a setup that would increase the hall's 'wow factor' but that would also be versatile enough to adapt to the wide variety of occasions it hosts, they turned to longtime supplier David Soltero and his company LP Productions. Over the past 10 years, Soltero and his team have supplied and installed lighting systems to a number of the owners' venues, including a large ADJ system in the La Boom nightclub.
"The owners were looking for something that would really set the hall apart," explains Soltero, "but weren't sure exactly what. So, we talked about a few possible ideas and when I showed them video of the ADJ MDF dancefloor system in action they really liked it and instantly knew it was what they were looking for. We installed a big dancefloor which looks fantastic and has become the focal point of the venue."
The MDF System is a robust, lightweight and extremely easy to setup portable LED dance floor solution. Each panel (MDF2) features an array of 3-in-1 RGB LEDs that cause its opaque tempered glass surface to glow intensely in an almost limitless selection of vibrant colors. The panels fit together quickly and easily thanks to an innovative magnetic locking system as well as a convenient cable-free power and data transmission arrangement that connects adjacent units in a row. This makes the system ideal for quick and easy permanent installation, for projects such as the Manchester Banquet Hall, as well as for temporary event use.
Complementing the dancefloor, Soltero and his team also supplied and installed eight of ADJ's Hydro Beam X1 fixtures in the ceiling. These IP65-rated professional moving head beam fixtures are each powered by a 100W Osram Sirius HRI, 6000-hour discharge lamp that produces a razor sharp 3-degree beam. Their durable casing protects the fixtures from dust, sand, moisture, and liquid, making them suitable for permanent installation indoors as well as for temporary outdoor use in any weather conditions. Packed with features, each fixture offers 14 colours + open, 15 GOBOs + open, a 16-facet prism, a frost filter to create a wash effect and an inbuilt WiFLY EXR wireless DMX receiver.
"The ceiling is not very high, so we wanted a fixture that was very compact but also very bright, and that is exactly what the Hydro Beam X1 offers," stated Soltero. "The beam is very powerful and it has a good selection of features. Although we obviously didn't need an IP-rated fixture as they are installed inside, it does mean that the owner doesn't need to worry if crowds get over-excited and drinks get thrown in the air!"
To illuminate the stage, which is often used for awards presentations as well as bands and other performers, six of ADJ's 12PX HEX LED par fixtures have been permanently installed. Featuring an array of 12 by 12-Watt 6-in-1 HEX color LEDs, the potent pars offer punchy output with a concise beam angle of 25-degrees.
"I think the 12PX HEX is one of the best LED wash lights on the market;" enthused Soltero, "it is very bright and the HEX LEDs offer really good colour mixing. My company also does event production, and this is the fixture that we have in our rental inventory for lighting big events and stages. It is perfect for situations like this, and those six fixtures light the whole stage very well."
To augment the stage and dancefloor lighting, Soltero and his team also supplied and installed 47 of ADJ's UB 12H linear LED wash fixtures. Each of these slimline bars feature 12 x 6-Watt 6-in-1 HEX colour LEDs and generate an intense swath of coloured light that is ideal for up or downlighting walls, drapes, or stage sets. This is the way in which they have been utilized within the Manchester Banquet Hall, installed just below the ceiling to illuminate large sections of the room's perimeter walls. These include a textured brick wall, painted white, located behind the bar and a number of sections decorated with polished metal struts.
"I have used the UB 12H for lots of install projects, particularly in clubs," explained Soltero. "Again, it has the HEX LEDs, which means that any colour can be created, and the output is really good. It is perfect for lighting walls, covering a good area with a beam that is tight enough to really make the effect stand out. At the Manchester Banquet Hall, we used them to light most of the walls around the room, which means it can be completely transformed to glow in whichever colour the party host chooses."
Two of ADJ's Fog Fury 1000 smoke machines, mounted on either side of the stage and pointed outward, are used to create atmosphere on the dancefloor and enhance the moving head beams. The lighting was programmed by LP Productions' Medardo Castro using the ONYX software from ADJ's sister company Obsidian Control Systems, connected via an NX DMX USB interface. Alongside the main system, an ADJ WiFLY NE1 simple wireless DMX control solution is used to run the UB 12H fixtures illuminating the bar so that these can be easily activated for smaller events when a lighting operator isn't required.
The combination of feature illuminated dancefloor, moving head beams, wall illumination and stage washing, all controlled via DMX, gives the Manchester Banquet Hall a versatile lighting setup that can be applied to a wide variety of different events. For dinners and receptions, the lighting can be used to apply any colour scheme to subtly enhance the ambiance, while for parties a full-on club atmosphere can be created on the dancefloor. The exclusive use of ADJ fixtures to achieve this was deliberate, based on Soltero's past positive experience.
"For all my installations, I only use equipment from the ADJ Group of Companies," he confirmed, "as I know that it will be reliable. For me this is very important, as it is my reputation on the line, and that is what I reply on for future business. The warranty from ADJ is very good and, on the rare occasions anything goes wrong, the Technical Support department look after me very well. I'm very pleased with all the fixtures we used for this project and my clients are also very happy with their new lighting system."