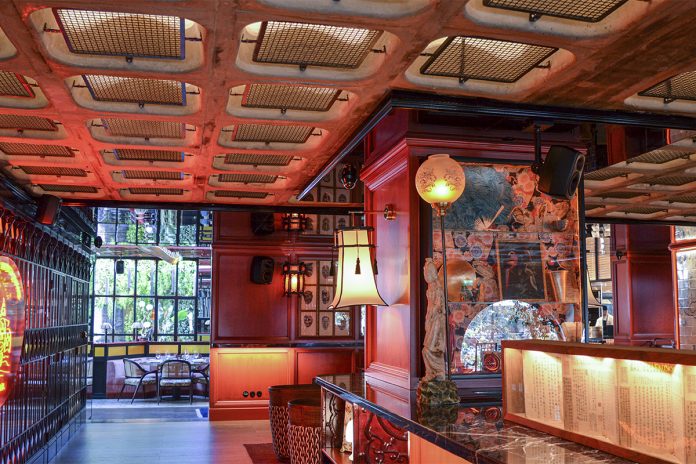 Venues need to be welcoming. From interior décor to lighting and sound design, each element has its place as part of a carefully crafted whole. As an integral part of the experience, sound is clearly an area in which choosing the right solution can have a huge impact. We've all been in bars and restaurants that have looked amazing, but for some reason you just can't have a comfortable conversation with the person next to you – either you can't make yourself heard over the ambient noise levels or you feel you need to whisper because you have no privacy. Perhaps you're seated too close to a badly placed loudspeaker with a bothersome output, drowning out your conversation. Whatever the problem, the outcome is the same – an experience that left something to be desired and perhaps a venue to which you might not return, particularly if it was a high-class establishment with prices to match!
Keeping the customer happy, comfortable and relaxed therefore requires careful consideration. Once upon a time, sound tended to be something of an afterthought, but these days most venue owners accept that if they want to deliver a premium experience at every level, then that involves all of the senses. In a restaurant, for example, music can make all the difference to the overall atmosphere, and it should be unobtrusive, allowing comfortable conversation, but easy to hear. When the sound is perfectly suited to the space, there is no need to strain the ears. Audio design, therefore, should not be neglected and ideally incorporated at the venue planning stage. We're still a long way from that happening every time, but it is definitely becoming more frequent.
The second scenario is venue refurbishment or simply an upgrade of existing equipment in order to bring the audio experience into line with today's expectations. With so much choice on the market, customers have become increasingly discerning so it's up to restaurant and bar owners to make sure they deliver. Bars present a number of challenges for audio, whether at the design stage or as part of an upgrade. Firstly, each space differs – from size and shape, to acoustic environment and style of music. A premium audio system should adapt to both the room and the application, especially if the requirements change as the bar moves from a relaxed daytime mode to a pumping nighttime ambience, perhaps even with a DJ.
Genelec, a well-known brand in the recording and post-production market for the unmatched audio quality of their monitor loudspeakers has made significant inroads into the installed audio-visual market over the last decade with a dedicated range of installation loudspeakers that combine the same crystalline audio quality with beautiful aesthetics. Consequently, Genelec loudspeakers are being specified all over the world into establishments that are keen on elevating the customer experience.
The company has paid particular attention to addressing the pain points of customers and integrators alike: firstly, from an integrator's point of view, no-one will knowingly specify equipment that is difficult to install or maintain. Active loudspeakers are therefore an excellent choice as they remove the need for bulky external amplifiers and associated cabling. Genelec's 4000 Series is a range of active loudspeakers available in four different sizes, from the ultra-compact 4010 to the powerful flagship 4040, which is capable of delivering precise, studio-quality performance for applications requiring higher playback levels and greater low frequency extension. All 4000 Series loudspeakers benefit from rear panel room compensation switches, which provide the ability to adapt to challenging acoustic environments, ensuring clean, intelligible, non-fatiguing audio whatever the playback level. A comprehensive range of mounting accessories means they can be installed quickly and conveniently in almost any location.
Audio aside, 4000 Series loudspeakers are also beloved of venue owners for their beautiful, curved aesthetic which blends seamlessly into any environment, and if that's not enough, they are also available in any of 120 RAL colours as well as an edgy 'RAW' finish which works very well in environments with a more industrial feel.
Another element that resonates increasingly with venue owners today is the issue of sustainability. Genelec has been committed to sustainable development and manufacturing processes since the company was formed over 40 years ago. As such, they have a considerable head start over other manufacturers who are only just starting to consider the question. Genelec products, since the very beginning, have been manufactured to last. This is a quality that is extremely appealing to owners and integrators alike. Rock-solid reliability 24/7 that is pretty much guaranteed for decades is a plus in everyone's book. Added to that is the knowledge that the carbon footprint of each Genelec loudspeaker has been kept to a minimum thanks to locally sourced manufacturing materials, loudspeaker enclosures fashioned from recycled aluminium, and highly efficient energy and recycling processes.
The recent development of Genelec's Smart IP loudspeaker series takes the concept of sustainability a step further. It is also a real game-changer in the field of networked audio-over-IP solutions. Smart IP technology allows Genelec to bring its renowned audio quality to IP installations and makes active loudspeaker system design and installation significantly faster and easier. Based on IP and Power-over-Ethernet (PoE) technology, the Genelec platform utilises a proprietary internal power supply that delivers remarkably higher SPLs than was previously possible via any conventional PoE. In fact, Smart IP is powerful enough to run small to medium sized systems – a world first – and all over a single standard CAT cable that delivers power, audio, calibration, control and monitoring.
For integrators, the ability to have everything delivered over just one cable is manna from heaven as it greatly simplifies the installation process and frees up both time and resources. Furthermore, a Smart IP solution can even run off the existing IP infrastructure if it's planned at the design stage, for even greater savings. Whatever the scenario, Genelec Smart IP systems provide true, sustainable profitability for all installation projects.