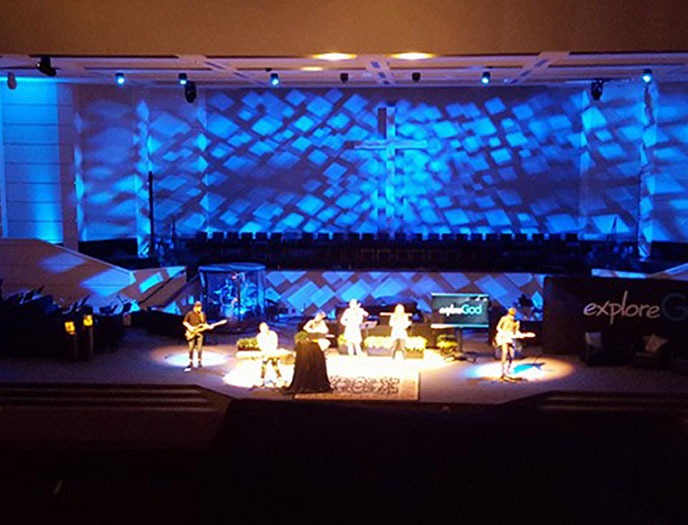 As Technical Director of The Heights Baptist Church, Bobby Dennis is accustomed to creating big concert looks on stage. Leading Christian artists and Dove Award winners like Aaron Shust and Point of Grace have regularly performed at this dynamic church outside Dallas, which counts international recording artist Sixteen Cities among its worship leaders.  
Yet when the time came to upgrade The Heights' lighting system, Bobby was intent on going beyond the church's concert tradition by putting together a rig that could do more than animate music with bold bright hues. He also wanted lighting with the depth and flexibility to create engaging scenes for his church's sermon series. Being on a limited budget, he needed to do this with as few fixtures as possible. He accomplished this ambitious goal with the multi-tasking Rogue RH1 Hybrid from Chauvet Professional.
A moving 330W fixture with an output of 110,000 lux at 15-metres, the Rogue RH1 Hybrid provided the intense output (as well as the rapid pan/tilt movements and tight beam angles) that Bobby needed for concert lighting. In addition to possessing these performance features, though, the new fixture gave him a variety of tools for creating a range of deep, evocative mood shifting looks to support a variety of sermon messages.
"I compared various fixtures when I visited LDI to see how they could meet our multi-level lighting needs at the church," he said. "Of course a big reason for choosing Chauvet, and specifically the Rogue RH1, was value, but that was by no means the entire story. I needed a fixture that not only had a high output, but also had great optics and multiple gobos so I could use it to provide richly coloured textured scenes for different sermon series. I was especially excited to have access to both a traditional circular 8-facet prism and the five-facet linear/horizontal prism on the RH1. My old movers had only a single circular three-facet prism. So my flexibility and power to create different scenes has increased astronomically."
Dennis flies four of the Rogue RH1 Hybrids across the front of the stage where they're used primarily for creating colour looks and scenes on the rear stage wall, as well as on the choir area riser wall during the church's contemporary services, which don't have a choir. The Rogues are also used as a visual framing element when graphics are projected on the rear wall.
The two remaining RH1 fixtures are flown on truss about 30ft in front of the stage. Bobby often uses these fixtures to complement the looks from the Rogue units that are flown across the front of the stage. At other times the two front Rogue fixtures are used for breakup patterns or serve as spot fixtures.
"My plan is eventually – hopefully soon – to add at least four more RH1s to our system," said Bobby. "I'd like to add two in-line with the current two that are positioned in front of the stage to give me more spot and breakup options, and have two positioned on the stage floor for beam ceiling uplighting effects mainly for special events."
In addition to the six Rogues, the upgraded rig at The Heights includes eight Intimidator Wash Zoom 250 moving fixtures from CHAUVET DJ. "I added the Intimidators because I needed colour mixing movers and I preferred LED units," said Bobby.  "I use these with the zoom manually set to a narrow spot, which is perfect for colour keying and filling. The Intimidator's output is sufficient for the short throw distance we have, which is about 24 feet. We typically use haze for beam looks only during special events and concerts, not during our regular services. When we do haze, the Intimidator's narrow, short-throw beam looks very nice framing the specials."
The Rogues and Intimidators join another Chauvet fixture that was already on The Heights' rig, the COLORado 3p IP LED wash bank.  "Our experience with the COLORados made it easier to go forward with Chauvet," said Bobby. "Good products and good people are essential to achieving our goals. Adam Loving and Josh Havard, our volunteers at the church, have played an invaluable part in the process of installing the 14 new Chauvet moving fixtures and creating programming scenes and looks. It's been fun, and it's really contributed to our sermon sessions."