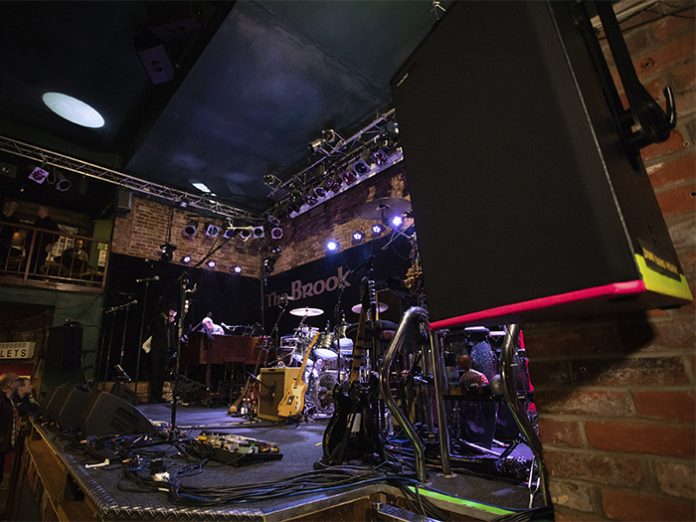 Over the last 25 years The Brook in Southampton has established itself as one of the favourite independent music venues in the south of England. The venue has developed this reputation by putting audience and artist experience as its top priorities, and this has been seen again with a completely new sound system from TW AUDiO.
Opened by founder Bryn Lewis in 1994 as a 300-capacity music venue, The Brook has a long history of supporting original music and has welcomed many artists at every stage of their career to its intimate stage. The venue had sported the same secondhand sound system since its opening, even after the capacity doubled to 600 in 2004. However, after 25 years of service this system was starting to feel the strain.
"It had become a little bit like running a car with a classic engine where you have to drive it carefully and look after it," said Nick Lewis, Director at The Brook. "It had got to a stage where you weren't able to replace a lot of its components."
"When we first came in it sounded great," added Dylan Clarke, Director at The Brook. "When it moved to 600 it was still the same rig, and ever since that time, I've thought that it's been running right at the top of what it can do."
Following a system failure that left the venue without sound for a week, the team at The Brook worked closely with the Music Venues Trust and Arts Council England to secure funding which would allow them to invest in a new, modern sound system. "Having hit 25 years, we were thinking 'how do we make sure we're here for another 25 years?' and that's what we've been trying to do in trying to find a new system," said Lewis. This led to the venue trialling a number of different options from various brands before opting for a complete TW AUDiO solution.
"Working with Sound Advice AV, we initially brought in a demo system to trial it in the space, then working with the team at The Brook we fine-tuned this to ensure it was the best solution for the venue," said Greg Oliver, Sales and Technical Support at TW AUDiO UK. "We have used various different cabinets from across the range. We've got the T24N downstairs, which is our legendary product, coupled with the T20s upstairs that use the same compression driver, so we've got continuity there. We have a double 21" BSX sub and then we have two single 18" B18 subs to go either side of that. It's chalk and cheese to what they had before. It's a modern system that has all been time aligned and set up correctly. From our point of view, it's a great install."
The result has been a complete transformation for the venue from its former system. "It's amazing, it's breathed new life into the venue," said Edd Higdon, Production Manager and In-House Sound Engineer at The Brook. "We're trying to make it so that everyone gets the same experience when they walk in the room, no matter where they are. The new system means the sound is now a lot cleaner, there's a lot more top-end and a lot more mid band as well, and it is now a lot more uniform in the room. That has been so important for us, because it is all about customer experience."
"We can now hear frequencies that have never been heard in this room," added Clarke. "We've had engineers come back who have worked here before and didn't enjoy working with what we had, come in and listen to the new system before gigs and be really impressed with how it now sounds. It's a real complement to the TW system."
Reflecting on the upgrade, Lewis is pleased with the decision The Brook has made and the new relationship that has been formed. "TW AUDiO have come through really well," he reflected. "I think in terms of their customer relationship, the way they've personally come and got involved and got to know us, got to know the venue and what it was we were actually looking for and how we needed to set it up. I think that they'd been great on that front. Along with other recent improvements, the sound system further propels this unique building with an unrivalled view up the ladder of world class venues."