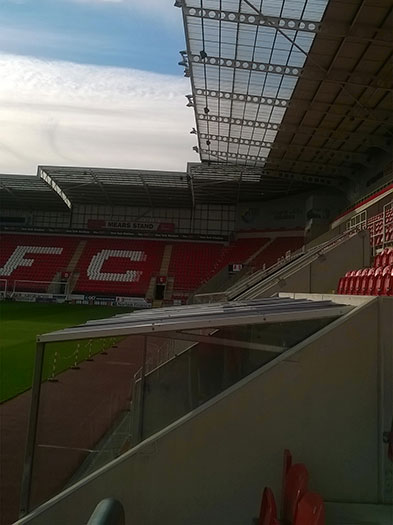 TG Baker has carried out a complete overhaul of the PA system, at New York Stadium in Yorkshire, home of Rotherham United FC, using a Harman stadium sound solution comprising of JBL loudspeakers and Crown amplification. Although the stadium has only been open since the start of the 2012-13 season, various shortcomings with the sound system were identified which had led to complaints in relation to the system's overall quality and intelligibility.
A new tender document was drawn up and TG Baker bid successfully. Director, Jason Longworth explained: "We conducted a complete system health-check, following which we were then contracted to replace the entire control system with four separate networked rack positions, using a dual redundant copper backbone, together with the upgrade and replacement of all of the main bowl and concourse loudspeakers."
The installation of 34 JBL AWC (All Weather Compact) 159s, driven at 100V line by a combination of Crown DCi-N 4 x 1250 and 4 x 600W network amplifiers, ensured even coverage across each of the four all-seater stands which make up the 12,000-capacity arena.
JBL's AWC series has provided a regular go to solution for the integrators at TG Baker Sound since their launch. These compact, coaxial weather-resistant full-range loudspeaker systems with 15-inch LF have proven ideal for speech and music time and time again. "The AWCs give us consistent 90° x 90° broadband pattern control with great speech clarify and an extended frequency response for music which is exactly what we are looking for in a stadium environment," said Jason.
The challenge for TG Baker was not only to work with legacy infrastructure but also the fact that the project upgrade was required to be carried out and completed mid-season. "At the outset we thought we had a three-week window during which to undertake the upgrade, however this was subsequently reduced to two when an England Under-19 match appeared on the fixture list" reported the installer. "Consequently, we had to double up on our engineering teams to ensure completion in readiness for this fixture."
There are four separate rack rooms – one within each stand – with a bi-directional dual redundant copper ring that serve a total of overall 17 PA zones across 36 monitored circuits.
Here the versatile Crown DriveCore Networked amplifiers really come into their own, as Jason explained. "Since the amplifiers form part of the voice alarm system, we can continuously monitor the load and using the pilot tone monitoring, provide comprehensive error reporting out via the GPIO (general purpose input/output) ports of the DCi-N amplifiers back into the main PAVA system, with a common fault to the local fire alarm panel."
Both JBL and Crown components are distributed in the UK and Ireland as part of the Harman Professional portfolio by Sound Technology and Jason said that both brands tick all the boxes. "For the JBL AWCs there are a number of plus points, the 90° x 90° pattern control, the efficiency, the bandwidth for both speech and music, the option to run 100V line or low impedance, the IP56 rating and finally the fact that it is extremely price competitive. The Crown DCi-N amplifiers are a good partner to the AWC loudspeakers with a multitude of power and channel options, together with the comprehensive monitoring features and error reporting."
Stadium Manager, Paul Davis agreed: "TG Baker provided Rotherham United with a professional service and product that has had numerous positive comments since the installation of the system. Throughout the process we were kept fully informed of what was happening and all deadlines were met in good time."