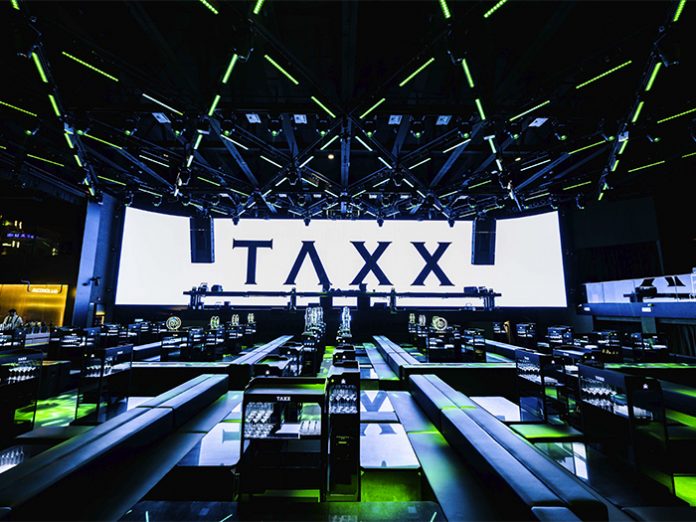 The original TAXX club in Shanghai was one of the city's largest clubs, boasting over 3000 sqm of partying space over two floors. KV2's Chinese distributor, AVMedia based in Guangzhou City, designed and installed a state-of-the-art KV2 Audio system based on the powerful VHD2.0 long throw system supplemented by SL412s and several ESD12s. From the day it opened, TAXX established itself as one of Shanghai's hottest venues with a record-breaking monthly turnover. It therefore comes as no surprise that the TAXX investment team decided to open a second venue – this time even bigger and demanding an even more powerful system. Having decided to stick with a winning formula, the investment team opted once again for a KV2 system, this time for the company's flagship VHD5 – the first installation of its kind in China.
TAXX II, with a capacity of 1000 people, is a club designed to push the boundaries at every level, offering 5D sound and light experiences to create a transforming sensory world. A 'super-dimensioned' panoramic DJ station that stretches for 30m, occupying the full length of the room redefines the DJ/crowd experience, made even more intense by the unrivalled KV2 sound quality.
With the aim of creating the best nightclub experience in Shanghai, investors spared no expense in investing in KV2's flagship VHD5 constant power point source array system designed to cover massive crowds with ultra-high definition, high energy audio. The system comprises a L/R system of one VHD5.0 mid/hi element and two VHD8.10 low/mid elements per side powered and controlled by a pair of VHD5000 units for the mid/highs and a further two VHD5000s units for the low/mids. Fourteen ESD12 (known as TIME12T in China) 2-way full range loudspeakers act as a fill system for the numerous private booths and VIP areas.
AVMedia's Mr Tony who specified the initial system at TAXX is proud to see China's first VHD5 system installed into TAXX II. "The investors' vision was to bring the atmosphere of an outdoor festival indoors – and what better way to do that than with a VHD5 system," he says. "They loved the sound of the first club with VHD2.0 and had even greater ambitions for the second venue. The clarity and definition of KV2 systems is legendary, and the VHD5 is, in my opinion, the best sounding large format point source system in the world. The investors, club-goers and DJs alike are all thrilled with the results. TAXX is a pioneering club at every level – it has the most highly specified hardware configuration in Shanghai and is undoubtedly one of the world's best-sounding large clubs with an unprecedented customer experience."