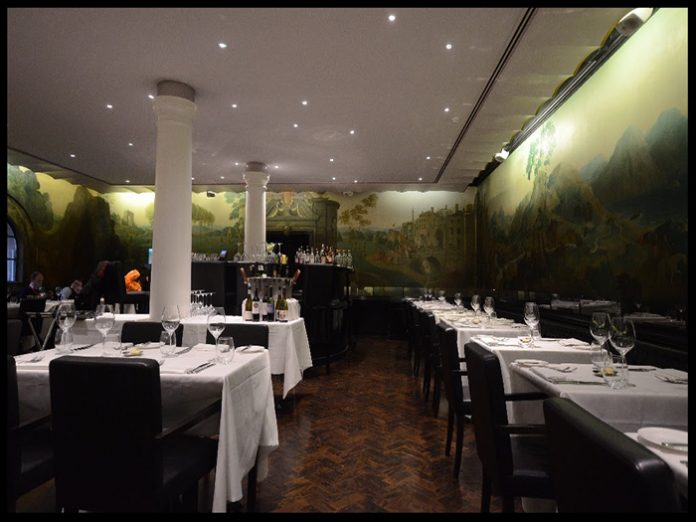 One of the world's most famous art galleries and an historic building in its own right, the Tate Britain has welcomed the installation of 12 Genelec 4020C monitors at their award-winning Rex Whistler Restaurant. The monitors, alongside two RØDE Performer Link microphone systems and bespoke control system will be instantly available and on-hand for numerous events held at the venue.
The restaurant, once described as 'the most amusing room in Europe', is surrounded by an eye-catching mural, 'The Expedition in the Pursuit of Rare Meats.' The priceless and historic mural, painted by Royal Academy student and iconic artist, Rex Whistler at the age of just 22 in 1927, covers the entire restaurant creating a unique dining backdrop for visiting patrons.
HHB Communication's Chief Technology Officer, John Johnson stated: "This is probably one of the most unique and delicate installations we have carried out in HHB's history."
The installation occurred at the end of January 2017 over the course of three days with Tate's Conservation Manager, and Catering General Manager on hand to assist HHB's CTO, John Johnson and Senior Support Engineer, Mike Rigby at all times. Once completed, John and Mike thoroughly tested the monitors, trained staff and offered full support throughout the entire process.
Catering General Manager for Tate Britain, Matthew Randall commented: "Working with the team at HHB was a pleasure throughout the process, the team's professionalism and sensitivity to this project in an historically important space was impeccable. We are delighted with the final result which will add real polish to the space and enhance our special events offering. We look forward to continuing the strong relationship we have with the team at HHB."
When it came to speaker selection for the installation, John Johnson explained: "The Genelec 4020C installation speaker and associated mounting hardware accessories were specifically designed with challenging commercial installations in mind. Combine that with an unbeatable reputation for outstanding sonic delivery made them the perfect choice for this space. We're delighted with the outcome, as are Tate Britain."