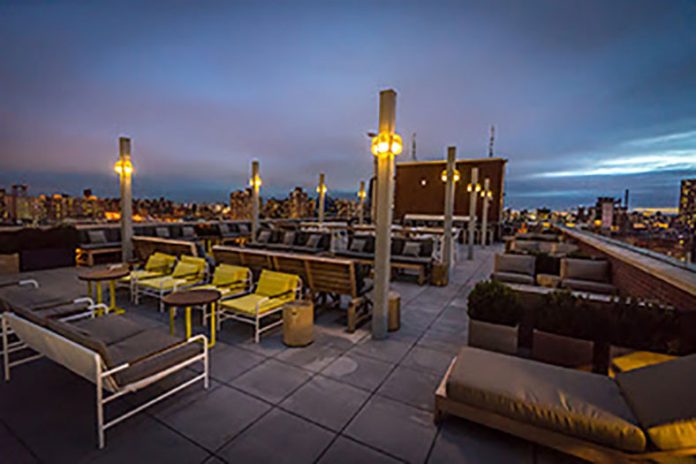 Located on NYC's Lower East Side and opened in late 2015, the Hotel Indigo offers patrons a combination of sleek modern design and local flavour with an eye – and ear – to providing them with a unique experience. Central to that experience is the hotel's 15th floor, indoor/outdoor, rooftop bar and restaurant, Mr. Purple.
Created by hospitality industry leader Gerber Group and designed by Crème Design to capture an artist-loft ambiance, Mr. Purple features an audio system comprised of class-leading Tannoy loudspeakers and Lab Gruppen C Series amplifiers. Although Ernie Lake of EL Media Group designed the audio system, Scott Gerber, Principle and Chief Executive Officer of Gerber Group drove the choice of Tannoy and Lab Gruppen. "We have a relationship with Scott because we did the Viceroy Hotel and consulted on other projects for him, and maintain some of his other bars. We've used Tannoy and Lab Gruppen in other venues and they work well for him, so it was an easy sell," Ernie said.
In all, eight Tannoy VX 8.2s, powered by two Lab Gruppen C28:4s, are deployed in Mr. Purple. Another C28:4 is deployed for the restaurant/bar's third party subs. Additionally, fourTannoy VX 5.2s are used as fill speakers, located in a bookshelf in the bar. For the outdoor decks and pool adjacent to Mr. Purple, Ernie opted for Tannoy AMS Series loudspeakers. In all, 14 AMS 5DCs and four AMS 6DCs driven by Lab Gruppen C20:8s. Tannoy AMS 5DCs, also powered by Lab Gruppen amps, were deployed in the hotel's entryway.
 
"About two years ago we opened up a restaurant called Kingside Restaurant at the Viceroy Hotel," Scott said. "We used the same equipment there and were very, very pleased. So when this came up we, and EL Media, were comfortable with it."