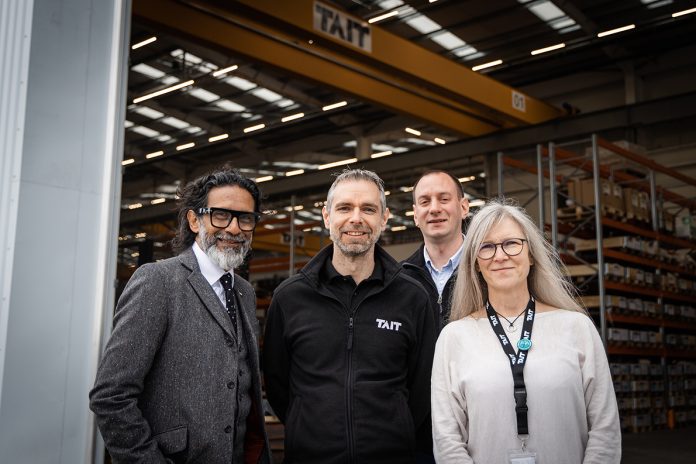 TAIT, the global creative engineering group for live experience environments, is celebrating the opening of a new factory in Suffolk, UK.
Having been part of the Haverhill landscape since 1978 in the form of Delstar Engineering (which became part of TAIT in 2013), supplying stage sets and machinery to many West End shows and venues, numerous Cruise Ship theatres, and worldwide theme parks, the firm has now expanded its facilities with a move from Haverhill's Homefield Road to a new 100,000 ft2 manufacturing facility at The Ridge development on Iceni Way.
The new facility enables TAIT's expanding team of design engineers, fabricators and industry specialists to assemble equipment for multiple projects simultaneously within the massive factory, which is equipped with four 15-ton cranes and has space for articulated lorries to load and unload within the building.
TAIT employs over 100 colleagues in Haverhill, almost 500 across the UK and over 1500 globally. The company exports from Haverhill to projects in the Asia Pacific region, across Europe and to every type of entertainment venue worldwide.
Locals will have spotted that the iconic "Delstar tower" now has a new home and logo in Iceni Way. The 21.5m tall tower is used for safety testing stage machinery, such as the winches that fly scenery or acrobats.
The new facility has been developed with sustainability in mind, with LED lighting, rainwater harvesting, solar panels and facilities for staff EV charging built into the scheme.
Mark Dakin, Managing Director of TAIT Neasden and Haverhill, said: "Haverhill and the broader region's rich history of manufacturing and entertainment excellence has always been a draw for us. Our team began as Delstar Engineering with era-defining work on Chitty Chitty Bang Bang and Phantom of the Opera. The site became TAIT in 2013 and continued to develop global projects such as the UAE Pavilion at Dubai World Expo.
"What the area has achieved in entertainment terms is nothing short of phenomenal. To create a next-generation facility that builds on this area's legacy and plots a path from the present to the future of entertainment is incredibly exciting for us, and we're delighted with the result."
Gemma Hodgson, TAIT's Chief Commercial Officer, said: "The vast space in Haverhill ensures our design engineers are in the same building as our fabricators and project managers, which means closer creative collaboration. We're also able to expand our work across stage engineering, cruise ship technology, kinetic architecture and location-based entertainment projects, not to mention expanding our FAT (Factory Acceptance Testing) capability. With new, cutting-edge equipment, we'll be able to experiment and push the boundaries of what's perceived as possible even further."
TAIT CEO Adam Davis commented: "We're delighted to be able to continue Haverhill's legacy as a centre of entertainment excellence. This is a crucial location in terms of proximity to European markets and infrastructure, but also because Haverhill has become an integral part of the TAIT team over the past several years. This new facility isn't just about what we're doing now; it's about the future for TAIT and the future of live entertainment. We're committed to delivering the best experience possible for our customers, which means continuous innovation."
Carol Scott, Principal Sustainability Advocate, TAIT said: "We are excited to have incorporated sustainable measures into our Haverhill site. As a business, we look forward to working with all our stakeholders, including the local community, to explore and develop future opportunities as they arise."