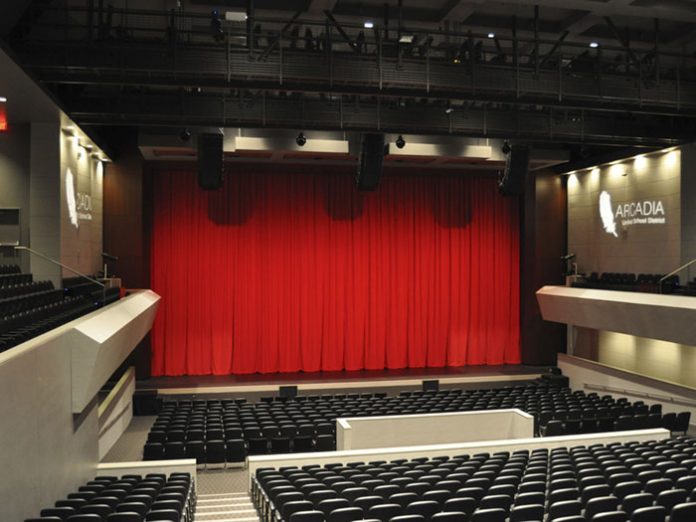 The venue, a hub for the area school district's arts programs, had suffered from poor audio for years, but a new RoomMatch system from Bose Professional now lets it handle everything from lectures to musicals to rock shows with great sound at every seat.
The Arcadia Performing Arts Centre at Arcadia (California) High School was envisioned at a level that many regional and municipal performing arts centre venues could only dream of. The 1,150-seat state-of-the-art Performing Arts Centre was opened in 2012, and since then, revenue generated from ticket sales and other donations benefit the Performing Arts Centre, as well as art education and art programming for the community. What the venue didn't have, however, was a sound system that matched its artistic, aesthetic and theatrical achievements. Now, it does: as of January, the venue has installed a state-of-the-art sound system from Bose Professional.
The system consists of the following gear from Bose Professional: a three-hang array of RoomMatch enclosures, chosen based on the theatre's unique acoustical needs, powered with multiple PowerMatch PM8500N networked amplifiers, and managed using a ControlSpace ESP-880 processor. Local A/V and automation firm Sunset Audio Visual installed the system.
"It's a beautiful facility, but we had some significant acoustical issues that came up; as we increased show quality and made other added updates, the sound was also very important to improve," explained Keith De Luca, the Performing Arts Centre's Manager and the Stagecraft Instructor at the high school. "It's a long, rectangular room, so it has a lot of reflections and a ton of slapback, which results in a muddy, inarticulate sound for the room." But, Keith added, an experience he had with a Bose RoomMatch system several years earlier let him know that a solution was possible. A concert by GRAMMY® Award-winning Hawaiian artist Daniel Ho at the Aratani Theatre, part of the Japanese American Cultural & Community Center in Los Angeles, gave him and others from the school a chance to experience the RoomMatch system installed there. "That really sold us on RoomMatch," said Keith. "It would enable us to handle lectures and other spoken-word events, as well as the musicals the school puts on and the concerts and other venue rentals we do. It would let us do everything, and do it well."
Stan Kojder, Owner of Sunset Audio Visual, says his company had done some smaller projects for the school before, but this renovation of the Arcadia High School Performing Arts Centre's sound system was the largest yet. In addition to the mechanical and electrical engineering work, SAV analyzed the theatre's acoustics to determine which RoomMatch enclosures would best suit its needs and where they should be located. "The hangs were going to be placed far apart around the 60-foot proscenium, but one side would be located close to a wall, so the RoomMatch asymmetrical enclosure choices made sure the system was optimized for this space's acoustics," Stan said. In fact, he added, the RoomMatch system was so perfect a solution that the venue's horseshoe-shaped mezzanine, whose seating had been rarely used before because the sound there was so inconsistent and unintelligible, was now a prime location on the theatre's seating chart. "RoomMatch looks great and sounds great in there," he said. "It's literally night and day from what had been there before. Every seat sounds great, even the first row in front of the stage, which the RoomMatch array hang is able to cover."
Keith agreed, noting that there is now little to no difference in level between any two seats in the house. "Since the new system was first fired up in January, we've done several speaker events, a show by a show choir, a beauty pageant, and we're in the middle of building our production of Les Misérables at the moment," he said. "The Bose RoomMatch system has opened us up to all possibilities, as a performance venue and as a teaching facility. We are grateful for what RoomMatch has helped us do."