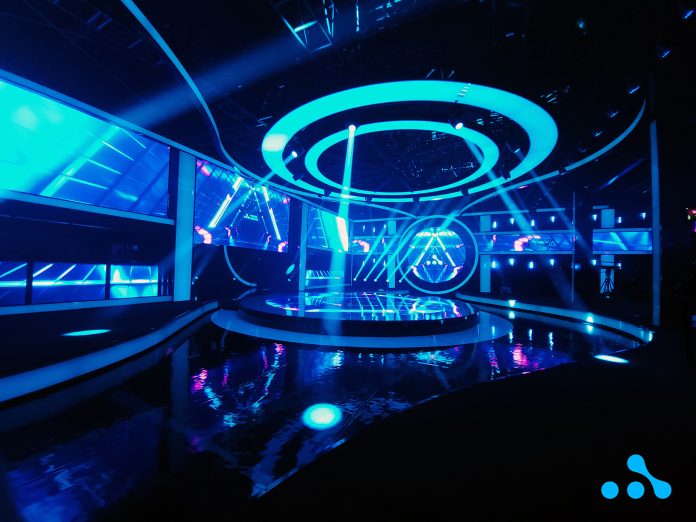 WePlay Esports Arena in Los Angeles was equipped with the latest gear including the Model 5422A Dante Intercom Audio Engine from Studio Technologies following its launch by a content production company WePlay Esports.
Founded in Kyiv, Ukraine in 2011 by Yura Lazebnikov and Oleg Krоt, WePlay Esports is a content-driven production company that combines the best practices of esports, technology, and entertainment to provide cutting-edge products and services worldwide.
The Los Angeles-based arena is the company's first foray into the American market, boasting a 20,000 sq ft space and an audience capacity of over 100 people. The arena hosts up to 30 events annually and is designed specifically to integrate augmented-reality media and reach a worldwide digital audience.
"Our goal at WePlay Esports is to create unparalleled viewer experiences, and Studio Technologies' Model 5422ADante Intercom Audio Engine is a vital component within our Dante workflow," said Ivan Zabaluyev, Broadcast Engineer, WePlay Esports. "The Model 5422A has incredible flexibility and its excellent IFB functionality is the best on the market today.
"WePlay utilises Dante as the backbone for both its audio and intercoms and has over 50 Dante-based devices on its network. This includes two Allen & Health audio consoles with stage boxes, Studio Technologies Model 5422As, as well as a host of other Dante-compatible products.
"The Model 5422A provides us with clear communications, allowing us to develop, produce, and host memorable, international esports tournaments and gaming shows that thrill players and fans alike," added Zabaluyev. "My goal is to add more of the Model 5422A Dante boxes as soon as possible."
The Model 5422A Dante Intercom Audio Engine is a high-performance, cost-effective, and flexible solution for creating party-line (PL) intercom circuits when used with Dante-compatible products, including the StudioTechnologies' range of 1-, 2-, and 4-channel intercom belt packs.
It can also prove valuable in a variety of other general audio and broadcast-related mixing, IFB (talent cueing), and interfacing applications. Only power and Ethernet network connections are required for the Model 5422A to provide a powerful resource in a variety of Dante applications.
The audio engine is available in two versions—one with 32 input and output channels and the other with 64 input and output channels. It also provides three Gigabit Ethernet (GigE) network interfaces, two of which can support redundant Dante operation and a third for accessing the management menu system.
To meet the latest interoperability standards, the unit's Dante implementation meets the requirements of AES67. Support for the Dante Domain Manager (DDM) software application is also provided.
An integral web server allows fast and flexible configuration of the unit's Dante audio and networking performance. Front-panel indicators, a graphics display, and pushbutton switches provide personnel with direct access to key operating parameters. Using the ST controller software application, key operating parameters can be monitored in real-time.
WePlay Esports was shortlisted for The Sports Emmy Awards for 2022 for outstanding coverage of an esports event and a finalist for the 2021 Esports Awards for Creative Team of the Year. The team is proud to have developed, produced, hosted, and broadcast more than 25 esports tournaments, amassing nearly 2 million followers and 235 million views on Twitch.
WePlay is partnering with the One True King (OTK) influencers network, as well as working with gaming publisher miHoYo. WePlay Esports is also the official production partner of Enthusiast Gaming for NFL Tuesday Night Gaming, a live-stream show, where NFL stars and Legends, together with prominent gaming influencers, compete in popular gaming disciplines.