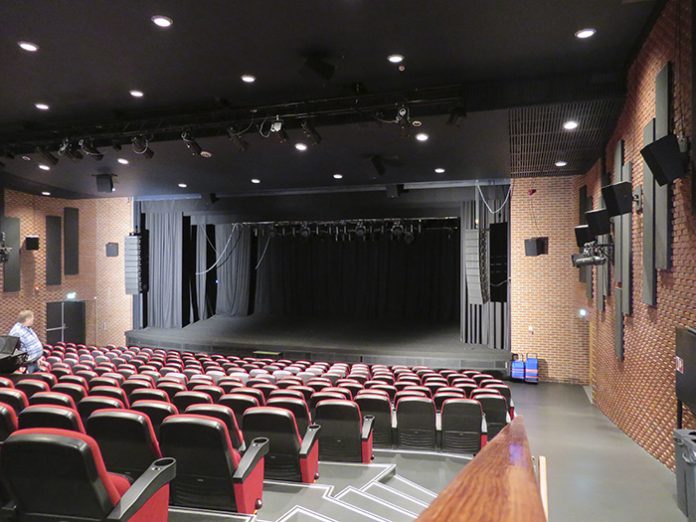 Storstova Culture House is a 400-seat venue in Bryne, just south of Stavanger on Norway's ruggedly beautiful west coast. Having first opened its doors in 1964, Storstova has hosted thousand of cinema shows and has been home to hundreds of performances of all types. When the time came to renew the sound system, owners Time Kommune turned to pro audio specialists, Norstage, who supplied and installed a complete EM Acoustics system based on the compact HALO-C line array system.
"Our old PA had served us well, but it was a large, cumbersome system from the 80s," explained Storstova's operations manager and head of sound, Bård Ystanes. "It was still going strong, but it was time to replace it with something smaller and more modern that gave us better sight lines and more precise coverage."
Bård and his team looked at systems from most of the major loudspeaker manufacturers. After extensive testing in-house, they concluded that HALO-C was the perfect fit for Storstova. "It just ticked all the boxes," said Bård. "It was the right size, the right budget, and frankly, when we heard what it was capable of, we were blown away. The crystalline sound quality and smooth, homogenous coverage across every single seat were simply amazing. We ran all the usual stuff through it to test it in playback mode, but to test it for live performance we had EM's technical director Ed Kinsella playing our grand piano (whilst eating Cheez Doodles), miked with a Royer Labs SF-24 stereo ribbon mic. What came out of the HALO-C sold us completely."
Nostage installed a total of 20 HALO-C line array elements in two hangs of ten cabinets L/R plus six compact EMS-51s for frontfill. The venue also has a Dolby Atmos surround system which can be piloted from the Digico SD5 at FoH for immersive sound applications.
"I'm thrilled with the new system," concluded Bård. "Now that the cinema has moved to a new building, here we concentrate exclusively on performing arts. We get everything from live music of all types to dance, theatre, stand-up and more. It's great to know that we can do them justice with a modern sound system that sounds every bit as good as those in venues where customers would be paying twice the price."