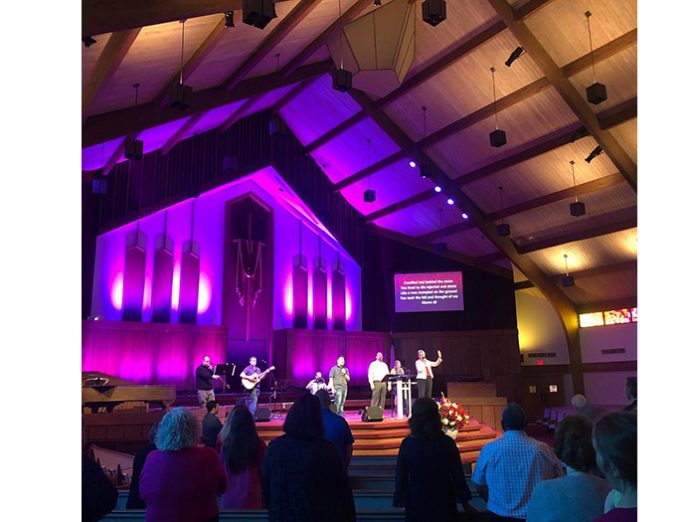 With special events like movie nights, a 'Young At Heart' ministry for seniors, Tuesday morning prayer meetings for men, and a host of other engagement activities, Windsor Park Baptist has a tradition of proactively reaching out to its members. Looking for a way to better reflect this spirit of inclusion inside their sanctuary, the church's leaders turned to Stark Raving Solutions for help in creating a more immersive worship environment.
The Lenexa, Kansas company helped Windsor Park Baptist create the kind of engaging space it was seeking by installing a collection of CHAUVET Professional LED fixtures.
"Looking at the church, we could see that its old stage lighting system, with its incandescent fixtures, was not in keeping with its overall approach of engaging worshippers," said Marcus Hammond of Stark Raving Solutions. "Our goal within the space was to transform the worship experience in the room with deeply saturated colour on stage."
Marcus and the Stark Raving team mounted 30 Ovation E-160WW fixtures on the large beams in the sanctuary. The LED ellipsoidals are positioned between 30ft and 40ft from the church's stage. Given their high output (equivalent to a 575W tungsten fixture), the Ovation units easily cover the stage with a flat even field of light to present a welcoming, easily viewable vista to worshippers.
"Given the throw distance, we wanted high-output fixtures for this application," said Marcus. "The Ovations had all the output we needed in a front light, but at the same time, they're also very energy efficient, drawing only 100W of power."
In addition to the Ovation fixtures, Marcus used 12 COLORdash Par-Quad 18 fixtures. Evenly spaced above the stage, these RGBA LED units are used to create smooth washes across the entire deck in a variety of natural looking colours as well as white, thanks in part to the inclusion of amber LEDs in their design. "The depth and realism of the colours they create are critical to creating an immersive mood on stage," said Marcus.

To coordinate the stage wash with the backdrop, 16 CHAUVET DJ COLORband PiX linear fixtures were used. Offering individual control of its 12 RGB LEDs, this fixture allows the church to create a wide range of colour-coordinated displays behind its stage to add a greater sense of depth and visual interest.
"Windsor Park Baptist wanted stage lighting that would not only make it easier for worshippers to see things, but would also be more engaging," said Marcus. "Up to this point, they had never had a professional theatrical lighting system. Now that they do, they can see how easy it is to create different immersive tones in the room with just the click of a mouse."