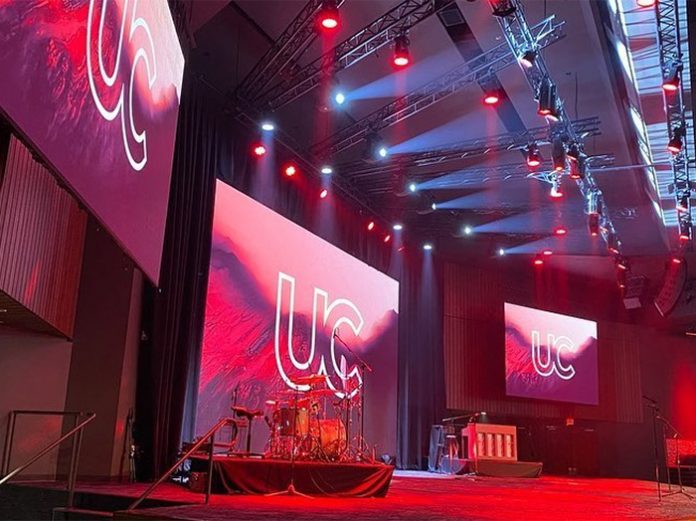 Modern life may be full of surprises, but there is one thing that surely will never be seen again: an Atlantic hurricane named "Harvey." The 2017 storm bearing that moniker caused so much damage when it slammed in to south Texas and Louisiana that its name was permanently retired by the World Meteorological Association.
Among the buildings devastated by the horrific Category 4 hurricane was First Baptist Humble, which had 18-inches of water in its sanctuary. Determined to rebuild its campus, the 111-year old house of worship gave itself a new name, United City Church, and remade its sanctuary interior, adding an advanced AVL system installed by Stark Raving Solutions that featured CHAUVET Professional LED fixtures.
The new 1,200 seat church was scheduled to host services for the first time on Easter Sunday, 2020, but fate intervened once again in the form of the coronavirus. With the lockdown in effect, the church couldn't reopen on schedule and had to limit itself to online streamed services. Almost two months later, however, with restrictions on public gatherings eased, the church was able to welcome limited groups of worshippers to its new sanctuary, following social distance guidelines.
Although many of its members continued to worship online, those in attendance got to experience first hand the immersive environment that United City's Technical Director Chad Kirchoff and his team envisioned when they began working with Stark Raving Solutions on the new lighting system.
"The church wanted a completely fresh start in terms of the environment created in the sanctuary," said Marcus Hammond, of Stark Raving Solutions. "They wanted a really modern lighting package — lots of color, movers and flexibility, so that's what our team, led by Bret Hoskins, Lead System Designer for the UCC project, and Jason Lericos, SRS Project Manager, were able to provide them."
To maximize the flexibility of the new system the rigging above the stage was designed to allow the church's team to orient fixtures in multiple directions using them for aerial effects and audience lighting. Nearly all fixtures in the rig offer full color mixing, since the ability to immerse by changing hues was extremely important the church.
"United City's team was determined to get an extremely contemporary rig with lots of flexibility," said Marcus. "They wanted the ability to say 'yes, we can do that,' when any idea came up in a creative meeting. The entire system is based around DMX network protocol (sACN) with distribution all over the room."
Color rendering effects and set pieces played a critical role in the church's vision. The United City team didn't merely want to accent the stage with evocative colors, their goal was to transform the stage and the entire sanctuary in rich palettes of bold saturates and soft pastels.
A collection of 24 Rogue R2x Wash fixtures spread out over an entire overhead grid and strategically positioned on the stage deck, are key to helping the church achieve the desired effect. "With so many Rogue fixtures it is easy for the church to get the range of looks it wants," said Marcus. "We also used 10 Maverick MK2 Spots to create depth and texture on the stage.
For added colour, the rig has two COLORado Solo Batten fixtures as well as eight COLORdash Batten Q12 and 18 COLORdash Par Hex12 IP units. Most of these fixtures are run on network distribution.
"We were limited on how many cables could physically go from the booth to the main lighting rack backstage, so the lighting system is mostly done with gateways/nodes all over," said Marcus. "Hurricane Harvey flooded multiple conduits and broke things underground, making almost all I/O for AVL in the booth need to run via two 2" conduits. This was a unique challenge. Lighting was impacted mainly by forcing the design to utilize IP DMX protocol (sACN) everywhere, some via fiber and numerous managed network switches."
Hurricane Harvey may have damaged conduits, but its name has been relegated to history – and the church it once devastated has now come all the way back, bigger, brighter and more colourful than ever.