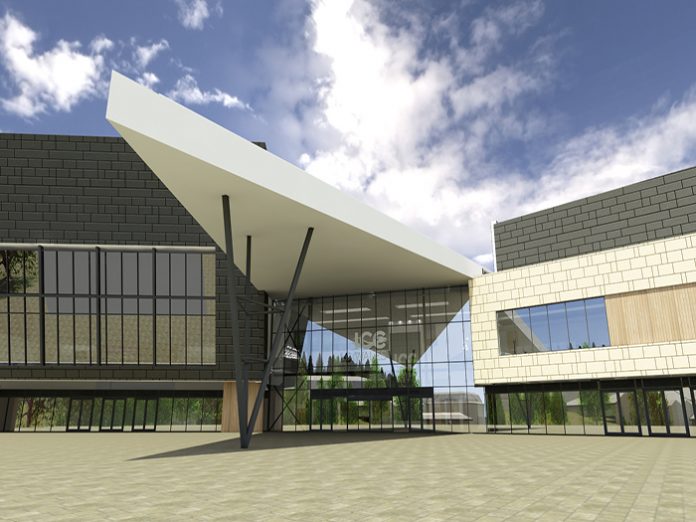 Stage Electrics has been awarded the £2m technical contract to provide the infrastructure for production lighting, sound reinforcement and audio visual services for the new £83.7m International Conference Centre Wales (ICCW).
Set in the Coldra Woods just outside Newport, the ICCW is a joint venture between the Welsh Government and Celtic Manor Resort. The project features a state-of-the-art auditorium, main exhibition hall with capacity for around 5,000 delegates and associated meeting room as well as breakout facilities and will be capable of staging major party political conferences. Being built by John Sisk & Son and scheduled to open in July 2019, it will be the largest facility of its kind in Wales and the South West of England.
Stage Electrics has been working on the project since 2016 to develop the schemes and ensure allocated budgets are met. It will continue that relationship through to the opening date and will support the in-house team during the first few months of opening.
"As well as providing lighting, sound and AV infrastructure, we will supply lighting equipment from manufacturers such as ETC, Chauvet and Prolyte, audio equipment from d&b, RCF, Yamaha and Roland, and AV equipment from Symetrix and Kramer, which will enable the venue to become a world-class conference centre," said Simon Cooper, Senior Engineer at Stage Electrics.
Stage Electrics' engineering teams have extensive experience of working in the convention centre market, having been involved with ICC Birmingham, Belfast Waterfront, EICC Edinburgh, Glasgow SECC, Oman (need to check venue) and The Vox Birmingham and have fully embraced the challenges the ICCW project has presented.
"Our role in the project as key integrators, responsible for the developed design of the technical systems has encompassed all aspects of the production lighting, audio, communications, AV and large power distribution," added Stage Electrics Business Development Manager, Saul Eagles.
"This integration work has seen us collaborate closely with the design team, including the electrical consultants, architects and end user team. We have also helped facilitate aspects of the stage engineering systems to ensure the balance of specification and budget is maintained across all disciplines. We are very proud to be involved in this flagship building which is expected to attract major events from across the world."