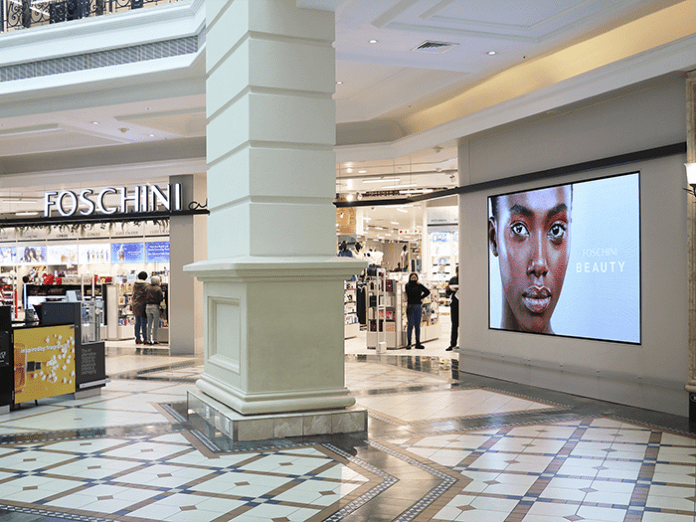 The Foschini Group (TFG) is a South African JSE-listed retail clothing group headquartered in Cape Town. TFG is regarded as one of the foremost independent chain-store groups in South Africa, finding success pursuing a strategy that focuses on enhancing the customer experience. Recently TFG announced that they were opening a new store in Canal Walk shopping centre, Cape Town, which required a visual overhaul. In past months, Stage Audio Work's Pixel Plus LED display solutions have truly cemented their position within the audio-visual market, providing vibrant displays with a range of flexible sizing options. Foschini is now the proud owner of two large Pixel Plus LED digital signage screens outside each entrance of the store, supplied and installed by digital communications specialists, AVT.
Working with the integrator, SAW specified two Pixel Plus Xcell-I Lite screens, each measuring 3.2m wide and 1.95m high, to match the location, visibility and of course the budget of the client. The purpose of these screens is to clearly communicate the brand's clothing line and image, consequently driving traffic into the store. With TFG's crystal clear philosophy of enhancing the UX (User Experience), such a visual attraction was a necessity for their store. SAW also designed and manufactured custom wall-mount brackets brackets
The screens were specified with a pixel pitch of P4, which refers to the density of the pixels (in this case 4mm apart) and influences the optimal viewing distance for a display. In simplistic terms, the lower the pixel pitch value, the higher the image resolution (and cost of the screen) and vice versa. Higher pixel pitches are suitable for applications where large screens are viewed from a distance, whereas low pixel pitches are best suited to close-up viewing. Pixel Plus screens are available in a range of different pixel pitches and finishes to enable customers to select the right balance of image fidelity and cost relative to their project.
To complete the Foschini setup, AVT supplied two Novastar TB6 LED processor and multimedia players for signal processing and smooth control of high definition content playback.
According to AVT account manager, Jerome Bullock, the project went off without a hitch: "This was our first project with Stage Audio Works, and I'm pleased to say that it was a great experience. Everyone played their part perfectly, and even exceeded expectations to complete this time-sensitive project without delay. From the screen selection process to the handover, their sales manager was heavily involved and supported us every step of the way to ensure a smooth process from start to finish. Likewise, the technical installations team was extremely helpful with their after-hours support."
SAW's Mike Summerfield neatly summarises the outcome of the project: "We're delighted to align ourselves with TFG's brand via AVT. This project observed a textbook installation of some of our hallmark display technology. Effective collaboration across all of SAW's departments was ultimately what made this project a success. We were on a tight schedule to obtain the components from our supplier before carrying out the installation. Round the clock support from all involved departments ensured that we were able to meet the project's tight deadline. It's been a successful collaboration and one that I hope will be repeated."